information and resources
•interested in doing a story on dr. sketchy's anti-art school?
Contact Molly Crabapple ([email protected]) for more information. If you need low-res photos, help yourself to the ones at drsketchy.com/branch/blog/newyork
Please email [email protected] for a look at our sponsorship packages. You can sponsor branches at a local or national level - or you can sponsor the entire Dr. Sketchy's empire.
•The dr. sketchy's press kit
Need detailed info, wrapped up in a swanky package? Designer Nubby Twiglet made this presskit just for you. Information is subject to change over time.
Download Low-Res Presskit(PDF) Spanish Translation(PDF)
Download High-Res Presskit(PDF) Spanish Translation(PDF)
•Dr. sketchy's logo
(Dr. Sketchy's Logo - vector format)
(Dr. Sketchy's Logo - jpeg format)
•Hi-res photos by Ryan Roman
(Gal Friday, Molly Crabapple & the White Boom Boom)
•Hi-res photos by Justin Lussier
(Molly Crabapple at Dr. Sketchy's)
(Delerium Tremens at our Absinthe session)
•Hi-Res Photos by Bill Wadman
•Hi-Res Photos by Steve Prue
(feat. Marlo Marquis, Katelan Foisy, & Mosh) .zip
•Hi-Res Photos
(01) • (02) • (03) • (04) • (05) • (06) • (07)
•Our fabulous ny times write-up by carol kino
•dr. sketchy's in playboy
RSS
NYC Events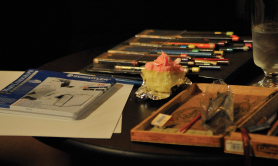 Art Tumblr