Dr. Sketchy's wants you!
Do you want to help with the largest alt.life drawing class in the world? To tap into the underground performance scene? To see how an indie empire is really run? Dr. Sketchy's is looking for helper monkeys!
Please note: this is for Dr. Sketchy's HQ & Dr. Sketchy's NYC only. If you're looking to help out your local branch, please refer to their profile for contact info. To find the nearest branch to you, check out our Branches page.
•You:
Enthusiastic
Have 2-4 hours a week to spare
Able to give a realistic assessment of what you can do
Computer savvy
Can live anywhere
Pleasant, articulate and fun to work with
•What we can give you:
Free admission to Dr. Sketchys anywhere in the world
Free Dr. Sketchy's merch
We might be able to toss you paying work, depending on what you do
Referrals to folks with paying work
Press and promotional help with your projects
Letters of recommendation
If you're a student, we can work with you to try to get college credit
An inner view of a DIY empire
Alcohol
•Fill out the form and join our sinister army:
RSS
NYC Events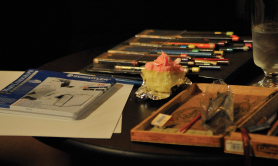 Art Tumblr
Dr Sketchy's LA 12/3/13 (pt. 1)
artofach.blogspot.com
http://drsketchy.tumblr.com/post/69132640329