dr. sketchy's would love to work with you!
Dr. Sketchy's is the largest chain of avant-garde life-drawing sessions in the world. We've worked with brands large and small to help spread their messages and we'd love to work with you.
Please email Alexandra Klasinsky, [email protected] for a look at our sponsorship packages. You can sponsor branches at a local or national level - or you can sponsor the entire Dr. Sketchy's empire.
•if you don't have cold cash but would still like to help dr. sketchy's...
Here are some goods and services we'd be happy to barter for:
Printing for t-shirt, posters, stickers, banners or flyers
Advertising space in magazines, newspapers and well-trafficked websites
Grant-writing expertise
Cool prizes and gift certificates for our contests
Bulk pencils
and while we're at it, a pony named Snowflake
•sponsor testimonials
"Dr. Sketchy's Anti-Art School, with dozens of branches worldwide, is one of the best marketing platforms (and one of the best kept marketing secrets) available to creative lifestyle brands. Dr. Sketchy's has allowed Baby Tattoo Books to reach an elusive group of independent yet socially connected consumers through tight integration of Baby Tattoo's product and Dr. Sketchy's programming. Dr. Sketchy's has redefined the standards by which Baby Tattoo evaluates a successful return on any promotional investment."
-Bob Self, President Baby Tattoo Books
"We teamed up with Dr. Sketchy to promote our new graphic biography of Kiki de Montparnasse. We had joint events in Glasgow and London, which were great fun. Our graphic novel by French artists Catel & Bocquet perfectly compliments the Dr. Sketchy concept, where art, performance and fun are all captured in one night."
-Emma Hayley, MD SelfMadeHero
The UK's leading graphic novel publisher
RSS
NYC Events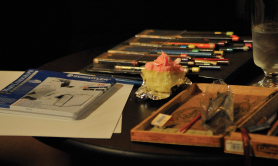 Art Tumblr
https://vimeo.com/81362468