Branch profile - Whistler, BC, Canada
Dr. Sketchy's Whistler
•

Whistler, BC, Canada

•

.(JavaScript must be enabled to view this email address)

•

Venue: Whistler, BC, Canada
---
Dr Sketchy Whistler was started by Teresa Bouchard, Bea Gonzalez and Lisa Geddes in the spring of 2011.

Supported by Lorine Van Voorst, Shelagh Thiessen and countless volunteers, this event combines the love of drawing, dazzling models, bizarre costumes and prizes all in one evening.
Mixing art and cabaret, Dr. Sketchy is for anyone and everyone who can hold a pencil. Join us for 3 hours of drinking, drawing and decadence.
Volunteers or interested model/entertainers for upcoming events please contact .(JavaScript must be enabled to view this email address).
Tickets are $12 at the door or by PayPal
Event is held the third Monday of each month from 7-10pm at:
Whistler Brewing Co.
Function Junction
1045 Millar Creek Road
Schedule of Upcoming events
Mon, December 16, 2013 • 10:00pm - Dr. Sketchy Whistler
Mon, January 20, 2014 • 10:00pm - Dr. Sketchy Whistler
Mon, February 17, 2014 • 10:00pm - Dr. Sketchy Whistler
RSS
NYC Events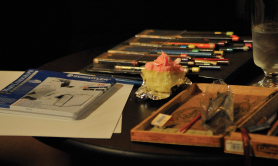 Art Tumblr
Dr Sketchy's LA 12/3/13 (pt. 1)
artofach.blogspot.com
http://drsketchy.tumblr.com/post/69132640329