Branch profile - Albuquerque, New Mexico
Dr. Sketchy's Alberquerque
•

Albuquerque, New Mexico

•

.(JavaScript must be enabled to view this email address)

•

Venue: Alberquerque, NM
---
My name is Lou Gomes and I am the director of the Albuquerque branch of Dr. Sketchy's. I am also an owner and artist at Ten Penny Tattoo/Art Gallery.
I have been working as a professional artist for the last ten years. Most of my time is spent creating custom tattoos for my clients but I also paint in acrylics and watercolor. My art is best described as "lowbrow", but that's how I like it.
Due to popular demand I began teaching art classes in my shop. Most of my students wanted to learn more about human figure drawing, as that is one of my strong skills. I began to kick around the idea of having live models to help me with teaching my students. The more I thought about it the more I realized that I was heading towards a Dr. Sketchy's vibe. So before I knew it I was applying for a branch.
Before I got in to the busy world of tattooing I was focused on becoming a comic book illustrator. I spent most of my early twenties locked in my room permanently attached to my drawing table. Of course the human form was key to getting into drawing comics, but there were so many other skills I needed as well. I studied drawing in perspective, light and shade techniques, and drawing scenery. Before I knew it I had developed the skills that cost art students thousands of dollars just by buying books recommended by professional artists.
Now, with this branch I can provide a fun environment for people to draw, and for others to learn. My girlfriend is Vivian MirAnn, founder and performer with The Gilded Cage Burlesk & Variete' troupe. Many of our models will be coming from them but will also include performers from all over the world. Vivian is always bringing in fresh faces (read: boobies) from distant places to grace our humble little desert oasis. I have several friends that are in photography that can also provide a veritable cavalcade of bodies for our sketching pleasure.
If you live in the area or plan to visit you should keep your eye on this page for upcoming events.
If you are interested in being a model please contact me at:
Ten Penny Tattoo
225 San Pedro Dr NE
Albuquerque, NM 87108
(505)268-3676
Tues-Sat 12-8pm MT
email: .(JavaScript must be enabled to view this email address) (Attn. Lou)
Schedule of Upcoming events
RSS
NYC Events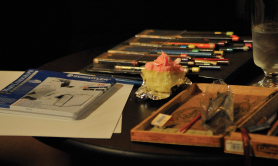 Art Tumblr
https://vimeo.com/81362468