Branch profile - Anaheim, CA
Dr. Sketchy's Anaheim
•

Anaheim, CA

•

.(JavaScript must be enabled to view this email address)

•

Venue: Rothick Art Haus 170 s Harbor, Anaheim, CA, US 92805
---
Dr. Sketchy's Anti Art School in Anaheim provides a provocative atmosphere for artist and models to celebrate the sexuality behind figure drawing. Sessions are held every 2nd and 4th Sunday at the Rothick Art Haus, voted Best Gallery in Orange County for 2011, in Anaheim, CA. just down the street from the infamous "Happiest place on Earth." We bring in a variety of models ranging from Contortionists and Belly Dancers to Goth Supermodels and Dominatrixes. It's always fun, stimulating, inspiring and a little dirty.
Our sessions are managed by Kelly Castillo, an artist intertwined in the underground emerging artist scene in Southern California. She is also an Arts Commissioner for the city of Anaheim. In July 2009, Kelly and her husband Nick Rothweiler opened the Rothick Art Haus gallery in Anaheim, CA. Six months later, they started the Dr. Sketchy's anti art school: Anaheim Chapter.
With the help of friends and fellow artists, the chapter has grown into an amalgated family. Are you ready to join?
Schedule of Upcoming events
RSS
NYC Events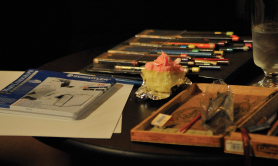 Art Tumblr
Dr Sketchy's LA 12/3/13 (pt. 1)
artofach.blogspot.com
http://drsketchy.tumblr.com/post/69132640329