Branch profile - Asbury Park, NJ
Dr. Sketchy's Asbury
•

Asbury Park, NJ

•

.(JavaScript must be enabled to view this email address)

•

Venue: Asbury, NJ
---
Earlier this year, friends and artists Tim and Stephanie attended a Dr. Sketchy event in NYC. They were hooked.
Booze + art + subculture? Brilliant. Immediately after leaving the plans began for starting their own venture closer to home on the Jersey shore. Nothing similar exists locally despite the rich artsy scene surrounding Asbury Park, but the inspiration is never lacking.
With tastes that run from classic to the frankly bizarre, the ideas are abounding for upcoming events.

Schedule of Upcoming events
RSS
NYC Events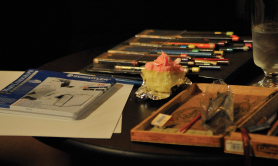 Art Tumblr
Dr Sketchy LA 12-3-13
http://drsketchy.tumblr.com/post/69027079376