Branch profile - Basel, Switzerland
Dr. Sketchy's Basel
•

Basel, Switzerland

•

.(JavaScript must be enabled to view this email address)

•

Venue: SUD | Burgweg 7 | CH-4058 Basel
---
Staged in a beautifully renovated brewery, with a luscious Art Deco feel, Dr. Sketchy's life model sessions occur at SUD (http://www.sud.ch) in Basel on the first or second Wednesday each month September through May.
Bring your easels, paper, canvases, paints, and drawing supplies. Then, find a table & chair to make SUD your atelier for the next two hours.
SUD's bartenders will be playing light music & serving drinks all evening. And, the model - or models - will be posing in delightful costumes & in interesting positions for you to explore your creativity and hone your craft.
At Dr. Sketchy's, not everyone is expected to be an artist; but everyone is encouraged to try!
Your 2012-2013 School Season (all Wednesdays at 19:30)
4 September: Members from the Basel cast of RENT: The Musical (playing 11-29 Sept at Querfeldhalle)
2 October: GiGi Mounds
6 November: Armitage Shanks
4 December: Nini de Paris
8 January: Tahlullah Manhattan
5 February: Bexi Owen
5 March: Eliza DeLite
9 April: Maizie Bloom
7 May: Luna Moka
Join the ARTISTIC REVOLUTION!
Bar opens at 19:30. School starts at 20:00.

Costs: 20.- Normal / 15.- Students
Free Entry for Bar-Visitors
All proceeds go to supporting this venture & bringing you great models!

Classes welcome. Please contact Auntie SAM for special rates & accommodations.
No photography allowed without permission from Auntie SAM.
Dr. Sketchy's Basel is searching the world to bring you the most poised, engaging, creative, beautiful, or unique models! For booking inquiries, send Auntie SAM an email or contact her online: http://www.facebook.com/auntie.sam.basel
Schedule of Upcoming events
RSS
NYC Events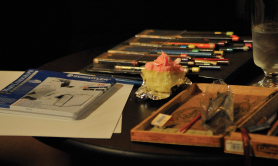 Art Tumblr
Dr Sketchy's LA 12/3/13 (pt. 1)
artofach.blogspot.com
http://drsketchy.tumblr.com/post/69132640329