Branch profile - Fargo, ND
Dr. Sketchy's Fargo
•

Fargo, ND

•

.(JavaScript must be enabled to view this email address)

•

Venue: Fargo, ND
---
Dr. Sketchy's Fargo is the first branch of Dr. Sketchy's to grace the Flickertail state and is proudly brought to you by The Alabaster Disaster. Sabrina Hornung by day and The Alabaster Disaster whilst misbehaving is a visual artist and is also one of the founding members of North Dakota's premier burlesque troupe Bad Weather Burlesque.
Lucky for us The Fargo Branch of Dr. Sketchy's has found a home at The Beef Steak club in Downtown Fargo. You will be able to find us The third Thursday of each month.
Questions comments or concerns can be directed to: .(JavaScript must be enabled to view this email address)
A big thanks to Bender Flames for his graphic design wizardry, The High Plains Reader, The Beef Steak Club and Bad Weather Burlesque for their support.
Schedule of Upcoming events
Thu, December 12, 2013 • 9:00pm - Enchanting Erica at The Beef Steak
Sharpen your pencils get your sketchbooks ready and prepare to draw Bad Weather Burlesque's own belly dance wonder Enchanting Erica. December's session will be held on Thursday December 12 from 8-10 in the upper level of The Beefsteak Club located at 612 1st avenue N in Downtown Fargo ND.
Erica started belly dancing in 1999 at the local YMCA, and now, years later, is teaching at the Spirit Room in downtown Fargo. She teaches primarily in the Egyptian/Cabaret style and occasionally incorporates zills and veils into class routines. At this time she only teaches beginner level dance.
Enchanting Erica is also a regular member of several troupes and variety shows and performs several times per month.
Thu, January 16, 2014 • 9:00pm - Jarica Jordan at The Beef Steak Club
Keep your sketchbooks at the ready as we are graced by the fabulous Jarica Jordan's presence during the January session of Dr. Sketchy's in fabulous frigid Fargo North Dakota. The first session of the year will be held on Thursday January 16 from 8-10pm at The Beefsteak Club located at 612 1st ave N in Downtown Fargo ND.
RSS
NYC Events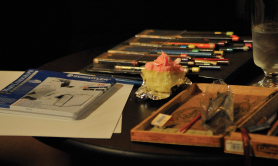 Art Tumblr
Dr Sketchy's LA 12/3/13 (pt. 1)
artofach.blogspot.com
http://drsketchy.tumblr.com/post/69132640329