Branch profile - Halifax, Canada
Dr. Sketchy's Halifax
•

Halifax, Canada

•

.(JavaScript must be enabled to view this email address)

•

Venue: Serpentine Studios, 1668 Barrington st, Suite 200
---
Hello from Halifax, Nova Scotia, Canada. I am Art Monkey Christine, host of this branch.
Monthly events are the goal, and seats tend to fill up by the end, so get in early for cushioned comfort. We tend to have a the full range of participants from those who are "just trying it out" to some professional artists. So come on down, bring your drawing materials and have a good time.
We are on Facebook at Dr.Sketchys Halifax.
If you are interested in helping out Dr.Sketchys Halifax or modeling please send me an email.
All events are 19+. If you are, or look, under 25 please bring a photo ID plus two pieces of light ID (i.e. library card, bank card, bus pass, club card) with your name on them.

Schedule of Upcoming events
RSS
NYC Events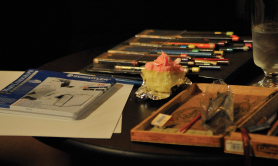 Art Tumblr
Dr Sketchy's LA 12/3/13 (pt. 1)
artofach.blogspot.com
http://drsketchy.tumblr.com/post/69132640329