Branch profile - Hamilton, New Zealand
Dr. Sketchy's Hamilton
•

Hamilton, New Zealand

•

.(JavaScript must be enabled to view this email address)

•

Venue: Altitude Bar, 30 Alexandra Street, Hamilton, NZ
---
Dr Sketchy Anti-Art School in Hamilton, Waikato, NZ
Hamilton artists are treated to a life-drawing art experience, session, fun, not only fun but entertainment that breaks all the rules by combining the increasingly trendy art of burlesque dancing with a visual art competition and unique sketching opportunity.
Beautifully costumed Burley Q dancers will strip down to bare essentials and pose for sketching. The night is interspersed with performance.
Originally from Wellington, burlesque teacher and performer Michelle Parish or 'Ms Tittle-Tattle as she is known in the industry, decided to bring Dr.Sketchy to Hamilton.
"I just knew Hamilton was ready for it. There is an increase of people doing burlesque dance classes as a hobby here. Plus there is a fantastic amount of funky vintage style being worn out and about on the streets. I've nicknamed it Glamilton!"
For the Waikato art scene Dr Sketchy offers something out of the norm, it marries beautifully with the thriving burlesque scene in Hamilton offering a variety of performers and artists the opportunity to get involved every two months..whether it might be designing the poster or performing for artists.
Local art organisation Draw Inc is a loyal and welcome supporter, urging local arty types to get along and attend…
Schedule of Upcoming events
RSS
NYC Events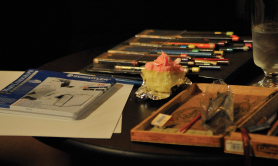 Art Tumblr
The results of tonight's Dr Sketchy's session :D
http://drsketchy.tumblr.com/post/69489605480