Branch profile - Jacksonville, FL
Dr. Sketchy's Jacksonville
•

Jacksonville, FL

•

.(JavaScript must be enabled to view this email address)

•

Venue: The Metro 2929 Plum St. Jacksonville, FL 32205
---
Dr. Sketchy's JAX was revived in November 2009 by Edward Mourningwood, The Smuggest Man You Ever Knew; joined by the lovely & sinister pairing of Anita Nightcap & Belladonna Knightshade, Professor X with his Florence Siphon Arabica Brewing & Extraction Apparatus, and Ms. Tremendous Tits on the 88's. Occurring bi-monthly throughout the Jacksonville Urban Core, Dr. Sketchy's Anti-Art School JAX invades swanky bars, graffitti gardens, and recording studios to bring Duval ArtMonkeys equal helpings of art class and decadent impertinence! Our Sawhorse Sketch Tables fill quickly, so do be prompt, kitten.
Dr. Sketchy's JAX is proud to be sponsored by babytattoo, Bold City Brewery, and Three Muses Inspired Clothing!
Special Thanks to Theatre Jacksonville for infinite production support! You make things so much easier!
Ticket Info:
$6 for ArtMonkeys (Sketchpad in hand!)
$8 for Voyuers (Yer jist staring!)
Follow us on Twitter: http://twitter.com/DrSketchysJAX
Find Us On Facebook: Edward Mourningwood
Schedule of Upcoming events
RSS
NYC Events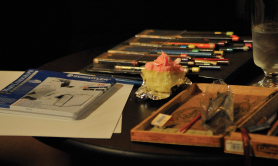 Art Tumblr
Dr Sketchy LA 12-3-13
http://drsketchy.tumblr.com/post/69027079376