Branch profile - Knoxville, Tennessee
Dr. Sketchy's Knoxville
•

Knoxville, Tennessee

•

.(JavaScript must be enabled to view this email address)

•

Venue: Downtown @ TALC
---
Knoxville's Dr. Sketchy's Anti-Art School Branch aims to bring the feel of an urban life-drawing, artists salon to you with a sense of intimacy, debauchery and the desire for you to draw dangerously.
Knoxville's Dr. Sketchy's meets once monthly depending on model availability, but generally on Sunday evening.
Our venue is TALC: The Amused Life Collective @ 221 Cumberland Avenue - Downtown Knoxville - which is located diagonally across from the Bijou Theatre, the bottom floor of Cook Loft. The entrance is down the hill on Cumberland Avenue just off of Gay Street.
We feature 2 1/2 hours of modeling and a performance from the model featured each month. Plus we have everything you love including wacky art challenges and prizes!
We encourage you to produce your art with us and the types of mediums allowed include: anything preferably dry but tidy, responsible folk are welcome to bring what they like. No cameras please.

"Pay to play" admission is $10.00 at the Door or $7.50 in ADVANCE – Tips welcomed to the performer/models.
***BYOB AND BYO-SNACKS***
Co-coordinator or contact: Nipsy Tussle
Email address: .(JavaScript must be enabled to view this email address)
URL: http://www.drsketchyknox.com
Easels, drawing boards, or benches available? No
Our Models: Typically include performance artists with instinctively good lines and body awareness, our models range from burlesque dancers, roller derby girls to belly dancers and sideshow type folk. Events may feature more then one model in various stages of undress or costume.
Not your typical life drawing session, Dr. Sketchy's is what happens when cabaret meets art school. Experienced and beginning artist alike are welcome to compete in irreverent contests for prizes. The event runs two hours with short breaks. BYOB and BYOF (food). Must be 18 or older. No reservations necessary but seating is limited so arrive early or purchase your pass in advance.
Schedule of Upcoming events
Sun, January 12, 2014 • 3:30pm - DSK presents PASSION PILLOWS
She's the busty bombshell who performs regularly with Knoxville's own burlesque and cabaret show, Salomé Cabaret and she'll be here to let you draw her curves and give you a few surprises hidden in her "treasure chest".
All mediums of art welcomed (sketch, clay, watercolor, etc.).
We recommend you purchase your ticket in advance as space is limited.
RSVP on the FB page here: https://www.facebook.com/events/372897152845559/
PURCHASE your PASS directly here: https://squareup.com/market/the-amused-life/dsk-door-admission
RSS
NYC Events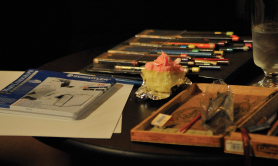 Art Tumblr
https://vimeo.com/81362468