Branch profile - North Wales
Dr. Sketchy's North Wales
•

North Wales

•

.(JavaScript must be enabled to view this email address)

•

Venue: Prestatyn + Wrexham + Llandudno + Bangor
---
Dr. Sketchy's Anti-Art School North Wales is sponsored by Extinct Design Vintage - mixing fashion & art and art with fashion.
Please visit our sister site in Chester too!
Run by strict school marm ~ Madame Ex
Come one, come all, those 'I can't draw-ers', the 'not surers' and 'cult explorers'… win prizes, dress up in disguises for Dr. Sketchy's Anti-Art School is waiting for YOU to enrol…
Dr. Sketchy's Anti-Art School North Wales lets you loose, to 'draw' inspiration from theatrical burlesque performers,
the playground of the fun, colour, weird and wonderful ~ an excellent source for artists and non-artists alike.
Dr. Sketchy's North Wales & Chester only wants you to have the very best kind of fun when engaging the right side of your brain, so each class will set the tone with a different theme, prizes to win, ability to drink booze whilst drawing and listen to the best old timey tinkerly tunes I can muster up.
A feast for all senses I'm sure you'll agree!
Remember! This is no place for rubbing out lines, tearing up work, only embracing
the now, for all skill levels.
http://www.madameex.com
http://www.facebook.com/drsketchynorthwalesandchester
http://www.twitter.com/madame__ex
http://www.twitter.com/drsketchywales
http://www.extinctdesign.co.uk
Schedule of Upcoming events
RSS
NYC Events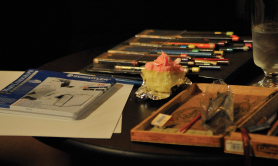 Art Tumblr
Dr Sketchy's LA 12/3/13 (pt. 1)
artofach.blogspot.com
http://drsketchy.tumblr.com/post/69132640329