Branch profile - Shanghai, China
Dr. Sketchy's Shanghai
•

Shanghai, China

•

.(JavaScript must be enabled to view this email address)

•

Venue: BARE BONES: Nov. 16-17: Bloc (139-19 Changle Lu, near Ruijin Yi Lu) ***More info at the bottom of the page!***
---
Photo Credit: M.M. Plumm, Branch Director/Producer/Overlord of Dr. Sketchy's Shanghai by Rachel Gouk Photography

Hey there. Welcome to Dr. Sketchy's Shanghai. You look sexy.
For the curious and new, a quick overview: Dr. Sketchy's is a life-model drawing party that model, artist, Vice columnist, and overall hip Internet person Molly Crabapple started in NYC about 8 years ago. Since then, the idea has grown into a company with independently managed branches all over the world. (For videos and pictures, take a look around.) As your official Sketchy's Shanghai director/producer/overlord, I'll be throwing a monthly (or bi-monthly), 3-hour formally structured drawing event where everyone in the audience is sketching, drinking, and encouraged to participate in awesome (or awful or hilarious) contests to win sponsor-donated prizes.
PREPARE YOURSELF!
Here's what you need to know:
1) Bring your own art supplies. There will be pencils and paper at the event for stragglers, but I promise you'll have more fun with your own stuff. All media is welcome, provided that you take care of the set-up/clean-up yourself. Please be mindful of the venue staff and other artists; I want you to express yourself and have a great time, not block the aisles with your portable studio. Common sense applies.
2) No personal photography. I have vulnerable, sexy people I need to make comfy, so put away your camera phones. Every event comes fully equipped with its very own official photographer and videographer, so worry not; you'll get documentation. Speaking of which…
3) By attending a Dr. Sketchy's event, you agree to appear in the official event photos and videos, just like at any party around town. Don't bring your sneaky sex buddy to Dr. Sketchy's on a secret date and expect me to take down the photo later. Not your call, bub.
4) Come to draw! Can you buy a ticket and then come and sit and be silent/creepy for three hours? I mean, sure, I guess you CAN do that, but you're seriously gonna bum us all out. Yes, it's full of goofy fun and bonus frivolity, but at it's core, it's a life-drawing session. Expect to life-draw.
5) YOU DON'T HAVE TO BE GOOD AT DRAWING. Dr. Sketchy's has NOTHING to do with talent and everything to do with the fun of actually sitting with a paper and something to put marks on it and going to town like you're a kid with a handful of broken crayons, a freshly-painted wall, and nobody around to tell you no.
WANT TO HELP?
Help me build my rolodex of hardworking, talented, reliable people who want to be a part of something beautiful and crazypants:
Art Monkeys:
The art monkeys are volunteer, supplementary staff who get to draw for part of the show for free in exchange for brief stints of light manual labor. I'll need about 5-7 of them per event. I'm a pretty organized individual and will make these jobs as easy and clear as possible so (for the most part) nobody's lost and everyone gets a chance to draw. Art monkey tasks could include:
-working the door
-collecting artwork from the audience for contest judging
-lights
-sound
-stagehanding (I don't know what that verb is.)
-any other things that I don't yet know need to be done but need to be done
Makeup/Wardrobe People:
Generally speaking, I will have planned out themes and overall plans for the makeup and wardrobe for each part of the show, so if you're good with backstage execution of plans, that's one way to help. However, maybe you're an incredible makeup artist or costume designer. If you want to be more heavily involved and bring some theatrical chops and vision to the table, I would love to talk about your ideas.
Venues:
While I hope to make YYs the homebase for Dr. Sketchy's Shanghai, I am building a list of potential spaces that might be on board with tasteful nudes and alcohol. Know of any? Let's chat.
Sponsors:
I'm looking for about seven product/service sponsors to provide prizes for every show. At Dr. Sketchy's, sections of poses are accompanied by contests that are usually silly and/or simple in nature ("The prize for the 4 5-minute pose section will be awarded to the artist who does the best job at drawing the models with robot arms," is a good example of how this kind of thing goes down.) I'm going to let the sponsors choose the contest and determine the contest winners (if in attendance, obviously).
Media team:
I've got some pretty solid people on these details, but there's always a chance I could use a photographer, videographer, or music human (DJ or playlist assembler with impeccable taste and an ear for mood and timing). If you'd like to be any of those things in the event that I need you, get back to me with links to portfolio event work.
And most importantly…
Future models:
Want to get paid for being mostly naked in front of an adoring audience? Know people who do? Hit me back—I give not two fucks about your body type, age, size, height, or shape; this isn't American Apparel. I will be making it a point to rotate through nature's physical rolodex and if you're excited enough about your butt to parade it proudly about in front of a crowd of people, then by god, I am too.
So that's it. Expect things to move around a bit in the next few days as I get things nice for company in preparation for our September 29th launch, World Over! Hope to see you there!
Sincerely,
M.M. Plumm
Branch Director
Dr. Sketchy's Shanghai
*(Okay, so it's like 10,000. Whatever.)
Schedule of Upcoming events
RSS
NYC Events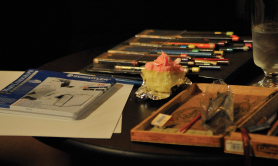 Art Tumblr
https://vimeo.com/81362468