Branch profile - Wellington, New Zealand
Dr. Sketchy's Wellington
•

Wellington, New Zealand

•

.(JavaScript must be enabled to view this email address)

•

Venue: Mighty Mighty, 104 Cuba Street
---
Dr. Sketchy Wellington has found a home on the 2nd Saturday of every single month at the magnificent Mighty Mighty Bar; 104 Cuba Street upstairs by the bucket fountain.
We bring you the best performers and the most tantalisingly diverse models: drag queens, hula hoopists, tango dancers, poets, burlesque performers, contortionists, pole dancers, rock stars, comedians, jugglers and masked Mexican wrestlers. From ballet to bellydance we strive to bring you the most beautiful, exotic and drawable models in the capital city and beyond.
Dr. Sketchy Wellington is always at Mighty Mighty, always on the 2nd Saturday of the month, always from 4-7pm.
Schedule of Upcoming events
RSS
NYC Events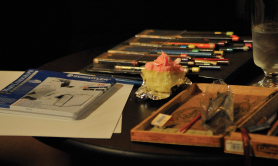 Art Tumblr
https://vimeo.com/81362468