Branch Blog - Dr. Sketchy's HQ
Mon, December 06, 2010 • 12/11- Dr. Sketchy's Turns Five
SAT, DECEMBER 11, 2010 • 6:00PM - DR. SKETCHY'S 5TH YEAR ANNIVERSARY Sketchy's at the End of the World Dr. Sketchy's Presents: The Apocalypse (and our 5th anniversary!) It's the end of the world as we know it, and Dr. Sketchy's feels fine. On December 11th, Dr. Sketchy's celebrates its fifth anniversary - and the apocalypse. All of them. At the Red Lotus Room, our beloved Brooklyn speakeasy, zombie cigarette girls will pose alongside Kali-Ma, road warriors, the Whore of Babylon, and Jesus. Artists can sketch their fellow survivors, pose in the mushroom cloud photobooth, eat Kate Black's caffeinated provisions, and listen to flame haired singer Kim Boekbinder celebrate the end of the earth. Sketchy's at the End of the World takes place on… Saturday, December 11th, 6-10 pm at The Red Lotus Room 893 Bergen Street, Brooklyn, NY 11238 Google Map:
http://maps.google.com/maps?f=q&source=s_q&hl=en&geocode=&q=893+Bergen+Street,+New+York,+NY&sll=40.709269,-74.009396&sspn=0.014834,0.01914&ie=UTF8&hq=&hnear=893+Bergen+St,+Brooklyn,+Kings,+New+York+11238&z=17
Models Include: Katelan Foisy as Kali Ma Amber Ray as the Whore of Babylon Rogizoid as Road Warrior Nik Sin as Satan Lillet St. Sunday as Eris Kat Mon Dieu as Tank Girl Ariel Wolf as Ash from Army of Darkness Sponsored by: Boyd and Blair Vodka, Squishables, What Katie Did, Baby Tattoo Books, Etch-a-Sketch $15 if purchased online $20 at the door in costume $25 at the door in street clothes $100 VIP tickets available. Comes with 2 free vodka drinks, front row table and limited edition print.
RSS
NYC Events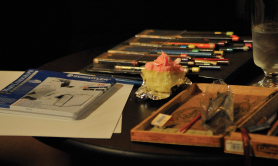 Art Tumblr
https://vimeo.com/81362468