Branch Blog - Aberdeen, UK
Mon, December 31, 2012 • 2012 in a Nuthouse.
It's Hogmanay tonight so I figured I'd post one of these horrendous, long-winded blogs about what made 2012 special for me. Then I realised that nobody cared and decided short and sweet was the way to go.
2012 was a fun year for me, that spark of love I have for drawing was rekindled and I decided to have a look into some life drawing in the Aberdeen as well as starting working my way through various "How to be a proper, srs drawerer and make buzillions of $$$ from yewr ahrt" type books, as well as some more light-hearted, comic book orientated affairs.
Anyway, my hunting led me to discover the existence of Dr Sketchy's and, more importantly, the absense of an Aberdeen branch! A few emails and a skype call later, I was underway in meeting some new amazing people and having relentless fun in the process. Starting this branch has been an absolute pleasure and an honour to be involved in. Hoping to start running events more regularly through 2013 and keep spreading the Sketchy name (and decidedly less Sketchy reputation) through the city and shire.
Over the coming year, we also plan to start working a little more closely with Hero Next Door and Gutter Lane to keep bringing life to the growing burlesque and cabaret scene in Aberdeen!
That's about all I have to say about 2012, really. Here's a picture of an embarassed kitty hiding her genitals.
Happy New Year, doodlebugs!
xx
RSS
NYC Events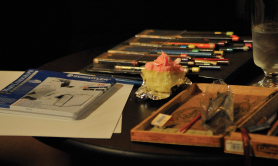 Art Tumblr
https://vimeo.com/81362468