Branch Blog - Philippines
Sun, October 16, 2011 • Mr. Sandman, Bring Me A Dream
Dr. Sketchy's Anti-Art School Philippines presents
this Halloween Tribute
to Neil Gaiman's wonderful world of The Endless.

From the realm of the SANDMAN, we bring you
MIKEE McDREAMY as DREAM, and CHERRY MALAYA as DELIRIUM.
"We of the Endless are the servants of the living
- we are NOT their masters. We exist because they know,
deep in their hearts, that we exist."
Dream, in The Dolls House

Join the fun and games to win drinks and Dr. Sketchy merchandise!

DREAM & DELIRIUM

OCTOBER 19, 2011 WED 8:00PM
2 Solid hours of drawing in sexy, boozy decadent fun!
BRING YOUR OWN ART SUPPLIES.

WEDNESDAY at AMBER ULTRA LOUNGE
Unit F, The Fort Entertainment Center, Bonifacio Global City

Indulge yourself with these promos:
:: Open bar on Southern Comfort for Gents till 11:00PM
:: Grab a premium bottle for only PHP1,000.00 (Sky Vodka, Jose Cuervo, Jagermeister and Evan Williams) before 11:00PM
---
PHOTOGRAPHY SOURCE: Mikee © Peter Owings; and Cherry Malaya © Joel H. Garcia
RSS
NYC Events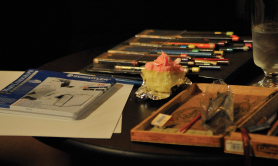 Art Tumblr
https://vimeo.com/81362468