Branch Blog - New York, NY
Sun, December 16, 2012 • A Battlestar is Born
Greeting Art Humans
Recently, our spaceship was commandeered by a killer robot from outer space - a sexy killer robot from outer space. That's right, it was time for our Battlestar Galactica session. Fortunately, our crew had been trained in the habits of robots by watching all six Star Wars movies and we knew all about their poorly constructed comic relief antics. Unfortunately, this robot did not fall apart even when hit really hard and seemed more interested in murder than slapstick comedy. So it was that we were overrun by Stormy Leather the cylon. However, it wasn't all bad, as it turns out that the cylons are much better written than any of the robots in our training. Kate Black took photos.
The costume she arrived in certainly left a lot to the imagination. I guess it was designed more for combat than for sexual arousal. Of course, for a plastic fetishist like me, this is paradise. For everyone else, hang in there:
But we'll get to that later.
While I was writing this, looking at these pictures, "Don't Cha" by the Pussycat Dolls was playing and it was oddly hilarious. Seriously try putting it on. Right?
I'm telling you, in a couple of years, everyone will be wearing this.
The winner of our One-Line Drawing Contest poses with his lovely new Baby Tattoo book.
I had a joke about "hand" guns that no longer seems appropriate.
I bet her ass looks great under that.
Kate Black would like to remind everyone that the lighting in the bar is not her fault.
Our crew admirably kept brave, even cheerful, faces while they were under assault.
I bet cylons are really popular at raves.
Here's a contest winner with a Squishable, so a contest must have happened, right?
Robot corsets are like regular corsets, but from the future.
Unfortunately, she never got more naked than this.
I'm pretty sure the shoes are also robotic.
I think she was determined to use as many colours as she could.
At this point, her mechanic had to make adjustments in the middle of the session. How embarrassing!
Our final contest was to come up with a better ending than that godawful series finale. This artist's surprise twist was that Stormy was a man the whole time. At this point, that really would be extremely surprising.
And that is all we have for this session. Thank you to Melissa, Foley, Kate, Yao, Keith, and Dolcy.
- Syd Bernstein
RSS
NYC Events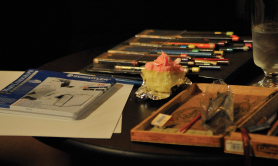 Art Tumblr
https://vimeo.com/81362468