Branch Blog - New York, NY
Sat, April 28, 2012 • A Case of Spring Fever
Greetings, Art Monkeys!
How was your Easter? I hope you had fun and got to spend time with your family. Of course, we here at Dr. Sketchy's Anti-Art School hate our families and will make any excuse not to spend time with them. So it was that we spent our Easter hosting a session with model Kat Mon Dieu. It was a properly respectful and religious session - the model's last name even means God! There's no way we're going to hell for this. Kate Black photographed.
I'd like her to hide my Easter eggs. Wait, that didn't make sense, did it? I'll work on it.
I'd like to do the bunny hop with her. No, that doesn't mean anything either.
I've got something to put in her basket. All right! I knew there was an Easter innuendo somewhere!
In the backstage photos, witness the miraculous transformation from woman to bunny.
This picture was taken mid-Charleston.
The intense sunshine in the Bowery Poetry Club made the parasol essential.
That wasn't just the best One-Line Drawing at the session, it was one of the best ever. She won the hell out of her Baby Tattoo book.
That hat could also serve as a halo, were someone to make a stained glass portrait of her.
This entry in one of our contests proves that someone else saw Zardoz.
For this session, Yao borrowed Melissa's Filler Bunny hat, which is unfair, because she's almost dangerously cute as it is.
This is for everyone who was wondering what Marilyn Monroe as been up to lately.
Everyone else sees Kat Mon Dieu onstage, but when the model herself tries to enjoy the show, she sees only an empty stage. Profound, isn't it?
The winners of our Bunny Contest enjoy their prize.
I'd like to nail her to a cross. Damn! These innuendos are harder than they look.
This is Yao's beautiful rendition of the pose.
I'm not sure what this is.
... and it won't take me three days to rise again.
With that, I'm off. Thank you to Melissa, Foley, Kate, Yao, Jawad, and the Dr. Sketchy's Pit Crew.
- Syd Bernstein
RSS
NYC Events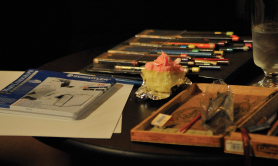 Art Tumblr
Dr Sketchy's LA 12/3/13 (pt. 1)
artofach.blogspot.com
http://drsketchy.tumblr.com/post/69132640329