Branch Blog - New York, NY
Tue, May 18, 2010 • A Con Game
Greetings, Art Monkeys and Art Monkey Sympathizers! If you're like me, you just checked the dictionary to see if I correctly used the term "sympathizer," and found out that it refers to an eye that develops inflamation due to injury to the other eye, which is almost precisely what I meant.
Recently, we had the second of our annual gatherings of Dr. Sketchy's organizers worldwide, or, for those of you who don't have time for all of these words, SketchyCon '10. The convention was a resounding success, and we have photographs to prove it.
On the first day of the convention, we had a drawing session with Amber Ray and Dame Cuchifrita posing as one of Molly Crabapple's paintings, because Molly's vanity is really what Dr. Sketchy's Anti-Art School is all about.
The convention kicked off with a performance by the always entertaining Sabrina Chap. Here, we see her being accompanied by Foley and John on slide whistle and shaker. You may think that this doesn't show off any musical talent of theirs, since these are instruments you haven't seen since elementary school, but I'll have you know that John and Foley excelled in elementary school.
Pardon me for BUTTing in, but could I ASS you a question?
Did you ever play in a little fort as a child? Amber's is better.
Our first contest,as always was the best Left-Handed Drawing.
However, for a change of pace, it was ALSO the drinking contest. Woah! Crazy! Especially crazy, because the drinks had Pop Rocks to add a little extra kick. Hey, there is never a bad time for sugar or alcohol.
Sometimes when you're onstage, you forget that there's a whole crowd of people watching. Pictures like this could be very damaging to Dame's future political career.
What time is it? WHISKEY O'CLOCK!
Oh no! Dame has become caught in a prison of her own making! Oh, the hazards of fashion!
Our next contest was sort of meta for our Sketchy's organizers - the best incorporation of something they asked others to incorporate into their drawings. We got a lot of animals for this. Just for reference: Ungulates get you further with us than over-used puns. Also better than coy references to vaginae are obscure literary references and actual vaginae.
Speaking of animals, that dog may be Dr. Sketchy's first ever non-human model.
If you ever find that you have that facial expression while in that position, it is a sign that you have become way too blasé.
For our last pose, we brought back our ever-popular Living Canvas contest. It's popular with everyone except the person who is made canvas, that is.
This contest was our way of hazing our newest helper monkey, Martin. His public humiliation still didn't earn him the right to be called anything but "Noob" by most of the Sketchy's crew. Sketchy's politics are harsh and unforgiving.
The prize for this contest was a bottle of vodka from our beloved sponsor, Boyd & Blair. I emphasize Boyd & Blair, and not Bartles & James, who make an entirely different kind of liquor, which I apparently accidentally said when announcing the contest. So, to reiterate, Boyd & Blair.
The second day was the boring part - listening to presentations on art and business stuff. From what I gathered, this was more or less the point of the entire convention. Yawn.
Don't let anyone tell you that Canada doesn't have much racial diversity. They have races in Toronto that the rest of us have never even dreamed of.
We may look like we are seconds away from a blackout in these pictures, but the fact is that we pretty much always look like that. I'm pretty sure Foley hasn't formed a new memory in the past three years.
Pittsburgh! New Haven! Toronto! Nashville! Jacksonville! Portland! Melbourne! What I learned from this convention is that we have a large and geographically diverse Sketchy's family and that the West Coast hates us - even the West Coasts of other countries. Thank you, Los Angeles for not being afraid of the right side of your map.
Some people think that these portraits are just an excuse to fuck around.
We like to think that all of the Sketchy Folk are beautiful, but only some are so beautiful that they get tons of extra photos of themselves.
As always, the New York crew was the most over-represented group at the convention. But someone in said crew has been missing from all of these pictures.
It's Justin Lussier! He was on the other side of the camera for most of the convention.
We love Justin in a way that he is not at all comfortable with.
That's all from the convention. Thank you to everyone who came out and made it happen. See you next year!
-----
RSS
NYC Events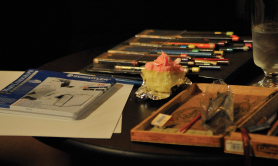 Art Tumblr
The results of tonight's Dr Sketchy's session :D
http://drsketchy.tumblr.com/post/69489605480