Branch Blog - Brighton, UK
Wed, September 08, 2010 • A faaabulous review!
Thank you to Joe "
Doubleclick
" Chapman for this amazing review of our first show. Spend some time perusing his blog while you're there. Not only is he a great writer and illustrator, his
Two Fingers LP
, featuring Sway, Ms. Jade and Ce'cile is epic! Joe will sharing his insane pumpkin carving skills with us for our
Dia de los Muertos
show on October 24. Be there!
RSS
NYC Events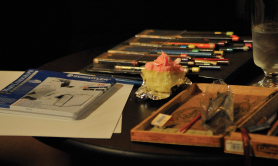 Art Tumblr
The results of tonight's Dr Sketchy's session :D
http://drsketchy.tumblr.com/post/69489605480