Branch Blog - Chicago, IL
Sun, December 04, 2011 • Hooray for our new sponsor!
Greetings Art Junkies!
Dr. Sketchy Chicago is looking forward to Festivus! Our all-inclusive holiday celebration and drawing event on December 18th at Everleigh Social Club! Free cider and cookies, and your model will be Nora Gretz with a special holiday performance by Rhonda Vous!
Our new sponsor, www.whatkatiedid.com, has generously supplied some sexy prizes that we will give away at Festivus! They are also offering 10% off of your order when you enter the code "sketchy"! Happy holidays to you!
Please oh please won't you join us?
RSS
NYC Events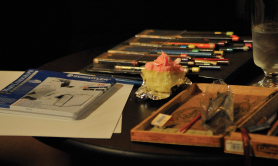 Art Tumblr
Dr Sketchy's LA 12/3/13 (pt. 1)
artofach.blogspot.com
http://drsketchy.tumblr.com/post/69132640329