Branch Blog - New York, NY
Wed, August 08, 2012 • A Haro-ing Experience
Greetings, Art Monkeys.
We here at Dr. Sketchy's Anti-Art School are huge supporters of Girl Power in all its forms. Unfortunately, equal treatment of women in the workplace as well as greater focus on women's issues in our nation's politics are kind of outside of our capacity. On the other hand, we are able to showcase women who kick ass, which is why we had our model Haro pose as a leather-bound warrior woman. She's kind of a Xenaish, Wonder-Womany type in a Mad Max-like outfit, though I suppose since she's Austrian rather than Australian, I should make some Arnold Schwarzenegger reference. You know what? Nuts to that. I'm making reference to Haydn instead. That's right, she's a warrior in the action movie tradition of Franz Haydn. Kate Black took photographs.
Like many women, Haro just loves chopping. So maybe that pun wasn't so sharp. I feel like such a hack.
As the saying goes, practice mace perfect. Maybe I'm bludgeoning you with these jokes. I'm such a flailure.
And then Haro stepped on a nail.
Backstage, the model prepares, because, as Thomas Edison said, 90% of preparation is half the battle.
Being a great warrior means working out your latissimus dorsi twice a week.
It also means getting your hair just right.
Once again, the winner of the stockings from What Katie Did will most likely use them only in private.
It is said that when Arnold Schwarzenegger was a young boy in Austria, his school put on a pageant in which the children were to portray famous composers. Perhaps sensing his destiny as a famous actor, Arnold was the first to volunteer, proclaiming, "I'll be Bach!" Then everyone looked at him in confusion for a while, because none of them spoke English.
This stoic pose is for those contemplative moments when Haro is merely thinking of ripping your spine out.
As you can see, Haro is proficient in a wide variety of weapons, including a phallic popgun and Yao.
Speaking of Yao, have some more of her art.
Though we love Yao, it was not her artwork that won the Squishable narwhal.
The original design for the sphinx was deemed too sexy for younger viewers and ultimately had to be toned down.
While our artists created beautiful artwork, Calvin just watched and provided us with drinks. This is the lonely life of a bartender.
Our drinking contest this time involved an exorbitant amount of shots.
After the session, Haro hung out and had dinner with us still in costume, to the amusement of passersby.
I could have used a bigger bottle.
Thank you to Melissa, Foley, Kate, Keith, and Yao.
- Syd Bernstein
RSS
NYC Events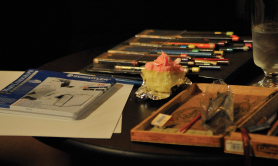 Art Tumblr
Dr Sketchy's LA 12/3/13 (pt. 1)
artofach.blogspot.com
http://drsketchy.tumblr.com/post/69132640329