Branch Blog - Dr. Sketchy's HQ
Thu, February 21, 2013 • A Hell of a Time
Greetings, incubi, succubi, and other creatures of ill repute.
For our first session back at The Slipper Room, our newly renovated home, we did our Halloween special with Dante Posh as a latex clad devil. Unfortunately, some sort of supernatural force that, for some reason, opposes the devil sent a storm that postponed the session and also wrecked the entire east coast. Perhaps it was slightly overkill and it was also ineffective, because the show went on. Unfortunately, by the time we actually held the event, it was closer to Thanksgiving than Halloween. Still, any holiday is a good time to let the devil into your heart, so up yours, hurricane. Kate Black took photographs.
Few people know this, but the devil's pitchforks are actually chocolate wrapped in tinfoil. That's where we get "sinfully decadent" desserts.
Despite owning a variety of pitchforks, the devil is not a farmer and has no idea how one is used.
This dark game of bowling for Aradia Ardor's mortality was presided over by a mysterious man in black. Who is he? What is his purpose? Why are the women so uncontrolably drawn to him? Will we ever know?
Backstage, we see a lady transforming into an unholy creature of malice incarnate, which is usually what happens when I walk in on a woman putting on her makeup.
Dante Posh accurately predicts who will be next to die.
I would go through Hell and back for her. Unfortunately, she's not crazy about the "back" part.
Some photos of the Dr. Sketchy's crew, including that mysterious, handsome man in black. Where did he come from? Why does your girlfriend cry out his name during sex? Where did he get that snazzy hat?
The devil offers a plate of Halloween candy. What is the devil's favoured confection? GUMMY BEARS!
Here we see the devil carve her name into a table with a knife. Is their no end to her wickedness?
The face of Evil wears many disguises. In this case, it's Mr. Peanut.
Here is the creator of the most EVIL drawing, with the adorably unkillable Squishable that he won.
Needs must when the devil drinks.
Of course the devil has a fancy fur coat for those cold days in Hell.
Here the devil is laughing uncontrollably. It seems that someone was burning puppies just offstage.
For those of you who doubted that Jo Boobs is in league with the devil, here is photographic evidence.
So, you see, underneath it all, the devil is not so bad. She's just an exceptionally hot woman who is deeply misunderstood and tortures people for her own amusement.
For the drinking contest, we had the artists depict their personal conception of Hell. The mysterious and sexy and devilishly clever man in black accepted the prize on behalf of one of the winners who was already living my own personal conception of Hell: she doesn't drink.
As I mentioned earlier, by the time this session happened, it was close to Thanksgiving. Dante Posh was kind enough to devote a couple of poses to the people who used to own this country.
This picture supports my theory that Andrew Jackson was, in fact, the devil.
That's all the photos we have. Thank you to Melissa, Foley, Kate, Keith, and Jawad.
- Syd Bernstein
RSS
NYC Events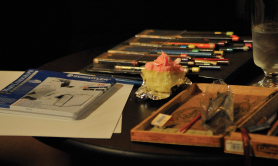 Art Tumblr