Branch Blog - Baltimore, MD
Sun, April 08, 2012 • A jolly Holliday with GiGi!
GiGi Holliday is easily one of our new favorite people. We've been hoping she'd model for Dr. Sketchy's Baltimore for years, but as a general rule we rarely ever approach someone. We wait for them to approach us, because we've learned this lesson the hard way: unless the person comes to us, they seem much more likely to be unreliable, cancel at the last minute, what have you.
So, we just patiently waited for someone to introduce us. There was a flaw in our plan, though---everyone just assumed we'd already met. For two years we twiddled our thumbs to no avail.
Luckily, one night after an Ottobar show and about four shots of Jager, I said "Fuck it," walked up to her, and basically said, "Hey, Alexis and I run Dr. Sketchy's Baltimore. You interested in modeling?"
Thank God, I did.
Here's some 1- and 2-minute poses.
John Schloman
John Schloman
Cecilia Strakna
We took a quick break so GiGi could have a breather, and then it was time for the 5-minute poses, the first of which was the non-dominate hand contest, where if you're right-handed you draw with your left, if you're left-handed you draw with your right, and if you're ambidextrous, you draw with a rabid porpoise. The two winners received mystery concoctions from Russell at the bar. Nope, I have no idea what was in them. Bad decisions and shame, I suspect.
John Schloman
Cecilia Strakna
Cecilia Strakna
John Schloman
It was then time for GiGi's halftime performance! You'll have to go to one of her shows if you want to see a full routine, but here's a few teaser photos.
The 10-minute poses were next. the first of which was our second contest of the evening, which was the best incorporation of "Be Kind, Rewind" (in honor of the closing of Video Americain's Charles Village location) for Blood by Mark Ryden, from Atomic Books up in Hampden. Extra points were given for incorporating The Fifth Element, since GiGi's performance was based on the movie's Diva Dance.
John Schloman
Cecilia Strakna
(This is my favorite contest photo of all time, btw. I can't look at it without cracking up.)
Cecilia Strakna
A quick break and it was time for the first 20-minute pose of the night and our third contest, the best incorporation of Tarzan, for one of two prizes: Animus by Seonna Hong, from Baby Tattoo Books, or a copy of Sabrina Chap's Oompa! Sabrina is raising funds for her next album, if you want to help, head over here. As of this writing, she's only a quarter of the way to her goal.
Fred Oakes
And the last 20-minute pose of the night....
Thanks to GiGi Holliday for doing a stunning job; thanks to our amazing sponsors, Atomic Books, Baby Tattoo Books, and Sabrina Chap for the great contest prizes; thanks to Jeff for the photography above; thanks to Russell for spinning tunes and booze; thanks to Alexis for rockin' the mic; and thanks to all of you for making it a particularly fun session! By the way, we're going to start experimenting with our blog post formats. Between you and me, I think they run a little long, and carry a little more punch if they weren't a big ol' novel. Don't be surprised when the next one of these is a little different.
RSS
NYC Events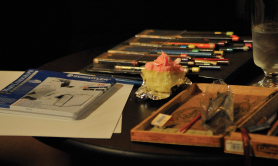 Art Tumblr
https://vimeo.com/81362468