Branch Blog - New York, NY
Sat, July 31, 2010 • A Kick in the Ball
Hello, Art Monkeys!
I know that all of you were very sad this June since there were no Dr. Sketchy's sessions (what with our home venue, the Slipper Room being closed for renovations and our not having yet moved into our new venue, the Parkside Lounge, at 317 Houston St., between Avenues B and C, which we will do tomorrow, July 10th), but Dr. Sketchy's still holds special events from time to time, and in June we held one of our most special ever. It was The Art Monkeys' Ball! A huge party in a huge venue! Lots of everything! Check it out!
There was a hookah in the backyard, which we see here in the hand of our celebrity hookah model Molly Crabapple.
The exquisite Amber Ray took the stage in a costume that absolutely defies belief. Seriously, I dare you to believe it! You can't do it, can you?
Wild art monkeys were kept in cages, where they could be observed without endangering the humans.
The instruction on that cage is either very Zen or very Method. Possibly both.
We had an aerialist who did contortions while tied to the ceiling. I love entertainment that also looks like Medieval torture.
Keep your distance. She has a bubble gun and she knows how to use it.
Some of our models walked amongst the audience, selling art supplies. Dante Posh wandered too close to the Art Monkey cage and was never seen again.
Dame Cuchifrita displays the gruesome spoils of her oyster genocide around her neck.
John looks just fabulous. When reading that, you can't tell how sibilant the s's in "just" and "fabulous" are, but trust me they are.
Foley looks like a character from A Clockwork Orange. He also kind of looks like Tuxedo Mask. He actually has often been compared to both, largely because of his tendencies to beat up old men and chase Japanese school girls.
Here's to the table - the thinking man's stage.
It may look like she's asleep, but that's just what she wants you to think. She's really poised, ready to strike. Look out!
Looking at Art Monkey Madame Rosebud, I can't help but wonder - is bestiality necessarily so wrong? I mean, we're all primates, right? Who's with me?
Like all women's clothing, Amber's costume works better when there is less of it.
Hilary feeds Beth strawberries in this clearly symbolic scene. You see, the cage is capitalism, Hilary is the bourgeoisie, the strawberries are racial tension, and Beth is industry. It all makes perfect sense.
We end on one of our biggest group shots yet. Thank you to more people than I can possibly name, and an extra special thank you to the people whose names I don't know.
RSS
NYC Events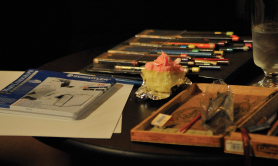 Art Tumblr
Dr Sketchy's LA 12/3/13 (pt. 1)
artofach.blogspot.com
http://drsketchy.tumblr.com/post/69132640329