Branch Blog - Chester, UK
Mon, March 19, 2012 • A Little Bit Grimm…. Part 1
A Little Bit Grimm.... Part 1
A Brothers Grimm favourite fairy tale... retold ~ Little Red Riding Hood!
Starring burlesque startlets ~ *LOLA LASHES* & *LOLLY LIQUOR*
As with every Dr. Sketchy Anti-Art School event - expect burlesque performances, cheeky poses, plenty of sketching challenges, ear popping music, prizes and all within a good few feet of the bar!
Now you don't have to be a superstar artist to enrol in a class ~ its truly open to all and the perfect night out for folks who are 'I can't draw-ers', the 'not surers' and 'cult explorers'....
You don't need to bring a thing! Paper and pencils are provided. But if you prefer to bring your own materials, please make sure wet media aren't any more messy than a neat watercolour set.
Its art that doesn't take itself too seriously.... to make seriously good art. The kind of class that embraces the "you are where you are" philosophy and just enjoy the ride... the scenery is swell ;P
We LOVE it when you dress up to match our themes too!
ADVANCED Tickets £8.50 / £6.50 for Students NUS
PAY ON THE DOOR £10.00
You can buy them online NOW at http://www.drsketchynorthwales.co.uk
*Please do invite your friends to our page http://www.facebook.com/drsketchynorthwalesandchester
Yours truly,
Madame Ex
Headmistress to the Masses!
NB - although this a great big space for us places will be limited (I'm looking after your eyes!! - dont want them strained) So do book your tickets early!
RSS
NYC Events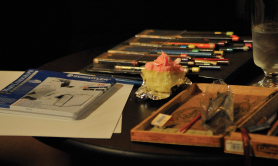 Art Tumblr