Branch Blog - Providence, RI
Tue, August 21, 2012 • A Mid-summer Night Sketchy
Tomorrow night prepare yourself for an enchanting evening. Over the past 400 years artists of the written and spoken word have been inspired by the work of William Shakespeare, on the 22nd of August Art monkeys can put their variation of the story on paper in a visual medium. We will be doing our version of Shakespeare's a Midsummer nights dream in the open air of one of Providence's beautiful parks.
Check out what we have planned in our photo shoot album on facebook
Where life drawing meets burlesque. Whether your good, bad, in need some practice or just starting out to try something new, any and all skill levels are welcome. With games to play, and prizes to give away your sure to have a great time!

Quick poses to begin with to get you started then gradually getting longer, with less and less clothes.
If the weather is not suitable we will have it at the Spot Underground 15 Elbow st. Providence RI.
RSS
NYC Events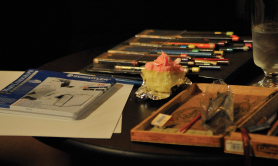 Art Tumblr
https://vimeo.com/81362468