Branch Blog - New York, NY
Tue, February 23, 2010 • A Night at the Museum
Hello, Art Monkeys! Earlier this month, Dr. Sketchy's Anti-Art School held a special session in the Museum of Sex. Yes, it's a museum full of art and sex. If there is any more appropriate venue for Dr. Sketchy, it would have to be a clothing-optional distillery in France. Unfortunately, we don't have access to one of those, so the Museum of Sex it was.
Modelling for this event was the lovely Dame Cuchifrita and taking the pictures was Vishnu Hoff (who I am assuming has a brother named Jack).
The Museum of Sex is located in midtown Manhattan, meaning that coat she is wearing is in all likelihood a city slicker.
Here, Dame demonstrates why her coat is a choking hazard for small children.
I'm not really sure what is happening in this picture, I just know that this woman is shocked by it.
I think these gentlemen forgot something when they left the house. How embarrassing.
Finally, we see Dame demonstrate how to keep her legs dry, even during the horrible storm that must have been going on in the museum.
That's all for now! I'll be back when I have more photographs. Remain vigilant!
-----
RSS
NYC Events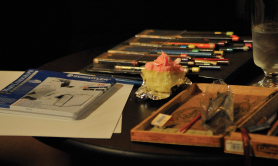 Art Tumblr
The results of tonight's Dr Sketchy's session :D
http://drsketchy.tumblr.com/post/69489605480