Branch Blog - Baltimore, MD
Mon, May 02, 2011 • A night of bombshells and bikes for Moveable Feast!
Last session was our first-ever charity benefit courtesy of
Ride for the Feast's
Team Atomic
for
Moveable Feast
, which means everything from the door and all the tips went to help feed Marylanders in need. 
I'll let Jules of Team Atomic explain it since I'll probably just flub it.
I don't know how we got this lucky two sessions in a row, but Team Atomic showed up meaning serious business.   Tons of creatively used props, innovative poses, various facial expressions---take heed, future models.  The following photos are a big steel-knuckled gauntlet that just cracked your linoleum floor.  Between this session and last session with the Junkyard Dolls, well, I'm worried if we can ever top them. Oh, we can but let's not get ahead of ourselves . . . on to the 1- and 2-minute poses!

Brian Dugan


Brian Dugan

Brian Dugan

Brian Dugan
We took a break so folks could get some delicious treats from the lovely ladies of Team Atomic / get a hand-steadying elixir / smoke / tinkle / or go outside and shoot somebody (since apparently that's what the rest of Baltimore was up to that Monday evening), and then it was time for the 5-minute poses, the first of which was the
"best non-dominant appendage drawing"
contest. As always, all contests are optional.  The two winners scored fancy shots from Josh at the bar---I don't know what they were but I did spot cherries in the bottom.  That's good, right?

Brian Dugan
More 5-minute poses.

Brian Dugan

Brian Dugan

Brian Dugan
A quick break to shuffle things on stage and it was time for the 10-minute poses. with the first contest being the random noun contest where the audience shouts out drunken nonsense until something strikes Alexis's fancy, which, this go-around turned out to be "Hemingway", with the prizes being an issue of Retro Lovely Magazine from
Atomic Books
in Hampden and a set of Princeton Art & Brush Company brushes from
Artist & Craftsman Supply
just down the street on North & Howard.

Brian Dugan

Brian Dugan

Lois Borgenicht
Next up was a 20-minute pose and another contest, this being the best incorporation of space flight since the 50th anniversary of human space flight was the next day.  The prizes were Ragnar's
Kings of the Road
from
Baby Tattoo Books
and a pair of stockings from
What Katie Did
.

Brian Dugan
And, the last 20-minute pose of the evening.

Brian Dugan
feed people, fight disease, and foster hope by making a donatio
n.
RSS
NYC Events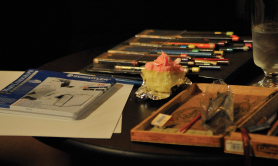 Art Tumblr
The results of tonight's Dr Sketchy's session :D
http://drsketchy.tumblr.com/post/69489605480