Branch Blog - New York, NY
Sat, September 12, 2009 • A Sort of Fairy Tale
Greetings, Art Monkeys!
Last week's session of Dr. Sketchy's Anti-Art School was special for many reasons. For one thing, John is on vacation, so last session marked the start of my two-month stint hosting. For another thing, we had the indescribable Amber Ray modelling for us, which is always a joyous occasion. Most importantly, though, at the last session, we had The Greatest Contest Ever! I thought I should warn you in the introductory paragraph, so you can ready yourselves for the end of this entry.
With the butterfly-like wings, it is natural that one would draw comparisons between Amber Ray and Psyche. The key difference is that Amber Ray is so pretty, she gets pissed off when people compare Aphrodite to her.
Speaking of Amber, did you know that my surname is German for "amber"? It's true! You can Google it if you don't believe me! It's a funny story how that came to be my family's name - my ancestors were cloned from DNA extracted from prehistoric mosquitoes. I heard that Stephen Spielberg made a movie about it.
I love it when the left-handed drawings remind me of Ralph Steadman. Maybe that's his secret.
Amber Ray is not to be confused with the manta ray (a flat fish), the Sting Ray (a popular Chevrolet sports car), the purple ray (which gave Wonder Girl her superpowers), or Jamie Foxx's Academy Award winning movie Ray.
Here is Molly Crabapple looking almost criminally beautiful.
As often happens when fairies are involved, some strange, unexplainable events occurred, as documented by our artists:
Here is a rabbit pulling Amber Ray out of its hat.
A unicorn sighting certainly is peculiar, but what really makes this magickal is that the unicorn also has wings!
My personal favourite preternatural occurrence of the session was a pack of wolves gunning down a helicopter. That would just be a suitably ironic thing to happen to Sarah Palin. Come on! Who knows how to train wolves? We have to make this happen!
Here I am, completely forgetting that if I hold the cover away from the camera, nobody reading the blog will be able to tell that the book is Miss Mindy's Sassy Paper Doll Bonanza.
Amber befriended a magical bird that told her secrets.
The audience draws their little drawings, completely unaware that very soon, they would be participating in The Greatest Contest Ever!
Here, Amber Ray gives the ancient Celtic gesture that signifies, "Somebody has just scored a touchdown.
Finally, it was time for The Greatest Contest Ever! You see, when John was hosting, there would often be contest themes that I would suggest that he would cruelly and unjustly dismiss. Now that I had control of the session, I gave the audience the option of three themes that Melissa or I had suggested and John had decided were not good enough:
1. Blossom (the early-90's NBC sitcom)2. Tentacle rape (a staple of Japanese pornography)
3. Ejaculating penes (yes, that is the correct pluralization of "penis." It's true! Quit arguing with me!)
The audience not only rose to the challenge, they beat the living shit out of this contest. It was glorious to behold.
I think I saw this movie! The American remake sucked so much.
The fountain in this drawing must be commercially available somewhere. I mean it has to be.
This drawing is exactly what The Greatest Contest Ever! was all about.
And this movie totally butchered the manga.
At first, I thought that the artist was insulting my intelligence by drawing Joey Lawrence wearing a t-shirt that said "Joey" as if I couldn't tell who it was. Then I realized that, actually, the shirt was for Joey's benefit - in case he forgot his name.
This drawing isn't bad, but it could use some more Blossom.
Finally, this adorable entry by Molly's mother had to be disqualified, because Amber insisted that it was not rape, but a beautiful and entirely consensual expression of tentacle love.
The winners of The Greatest Contest Ever! enjoy the most thoroughly deserved drinks in Dr. Sketchy's history.
That's all the time we have. Thanks to Molly, Melissa, Justin, Keith, Dolcy, and everyone whose name I forgot. I'll see you all next time!
-----
RSS
NYC Events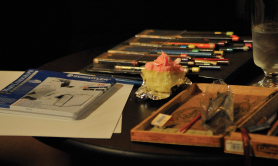 Art Tumblr
https://vimeo.com/81362468