Branch Blog - New York, NY
Thu, September 25, 2008 • A Thousand Pretty Women
With the dollar falling faster than a drunk frat boy off a roof, it helps to be reminded of the one sound investment left….
Gambling, baby! Vegas is the only economic market that makes sense anymore …and who better to lead us into venality and depravity than Pandora and Nik Sin?
Your esteemed hosts for the night. We had games of chance for prizes!
Never just assume you can shuffle cards correctly. Some people won swiped Louie Vouttain playing cards! Some people won t-shirts. It all evened out in the end.
Pandora's headdress made her a danger to herself and others.
I wanted a Saul-Bass 60s look for the background, but I think "raving pink insanity" works just as well!
This looks like the cover to a book of short stories that has a lot of weeping and gunshots in it. In a good way.
Have we mentioned that Nik Sin makes "menacing glare" into an artform? Cause he does. Guy could have a cult by now.
And that wraps it up for this week! Thanks to Dr. Simon, Steve, Syd, Justin, Pandora and Nik Sin! Come back next week when Amber Ray and Machine Dazzle will glam it up for my Very Own Birthday Session!
I hope I don't get spanked again.
YET MORE PHOTOS!
As always, our lanky guru Justin Lussier provided a few more …colorful shots of the action.
Contemplative Pandora Is Contemplative.
Oh Justin, shine on you crazy zirconium.
-JL
-----
RSS
NYC Events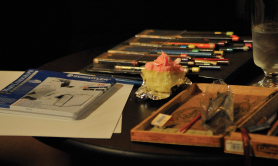 Art Tumblr
Dr Sketchy's LA 12/3/13 (pt. 1)
artofach.blogspot.com
http://drsketchy.tumblr.com/post/69132640329