Branch Blog - Nelson, New Zealand
Wed, November 02, 2011 • A very Burlesque Halloween in Nelson
A huge thanks to our models for October.
Miss Lola Pearle shimmyied and shaked whilst rewarding the trick n treaters with candy
And Saucy Seira , teacher and performer from Pole Fitness Nelson , gave us all a fright from high atop the bar!! no easy feat!!
Thanks to all who came!!
Next month we celebrate Dr Sketchy being in Nelson for 2 whole years!! WOW!!
We have very special guest Miss Phoebe Lee who will stun us all with her Aerial Hoop antics.
And as its our birthday..we're going to give away loads of presents!! Huzzah!!
Se you there
Dr Sketchy Nelson
xx
RSS
NYC Events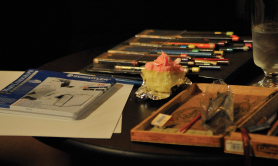 Art Tumblr
https://vimeo.com/81362468