Sun, October 24, 2010 • Adelaide Dr. Sketchy model brings Da sexy back !
http://www.adelaidenow.com.au/news/south-australia/it-the-return-of-the-pin-up/story-e6frea83-1225937852655
CAREER women are bringing sexy back, 1950s style. Buxom girls and glamorous boudoir outfits are being revamped for a 21st century audience in an Australian first that will decide who is a modern-day Marilyn Monroe or Betty Grable. Clinical researcher by day, burlesque performer by night, Silla Black, 31, is the only South Australian contestant in the Miss Pin-up Australia competition held on October 23 in New South Wales. "(Pin-ups) epitomise old glamour and women who were able to do it all," she said.
"They were able to work - in the home - and have children. They had a beautiful home and beautiful clothes and old-school morals and ethics. The actual act itself is not empowering but the choice to do it is. Being a pin-up is not easy. Like anything, it takes a lot of work."Performers in the competition range from lawyers to accountants and must be more than 18 years old. Ms Black said the first Miss Pin-up competition exemplified the demand for "real-life models" in the modelling industry.
RSS
NYC Events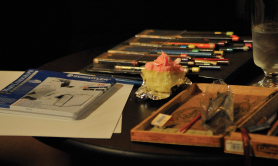 Art Tumblr
https://vimeo.com/81362468