Branch Blog - New York, NY
Sun, April 28, 2013 • Adventure in Apathy
Bon eNnui Art Monkeys!
It is Monday...and I, Kat Mon Dieu am aware that you 9-5'ers have a particular distaste for this day of the week. So to break up your GDIM mindset ("Goddamn It's Monday"...do they even have a restaurant by that name? they should!), I interject into your otherwise morosely Monday-ish Monday, a bright enigma to ponder. Behold the ANTI-ennui muse...the sweetheart of stoicism...our very own unflappable ouroboros in latex...Apathy Angel! (Photos by Kate Black on January 27th 2013, at The Slipper Room)
Look into her eyes, like scrying the depths of still waters for answers to your art magic...you will be inspired in the mystery.
Trace her contours with your writing implement of choice, (pen, pencil, brush, stylus...finger...) and imagine what lies beneath the latex skin, as she writhes before you...
No, no, no...this Blue Angel will not reveal herself to your eyes if you cannot penetrate her with your mind...do you know what is behind her dark gaze?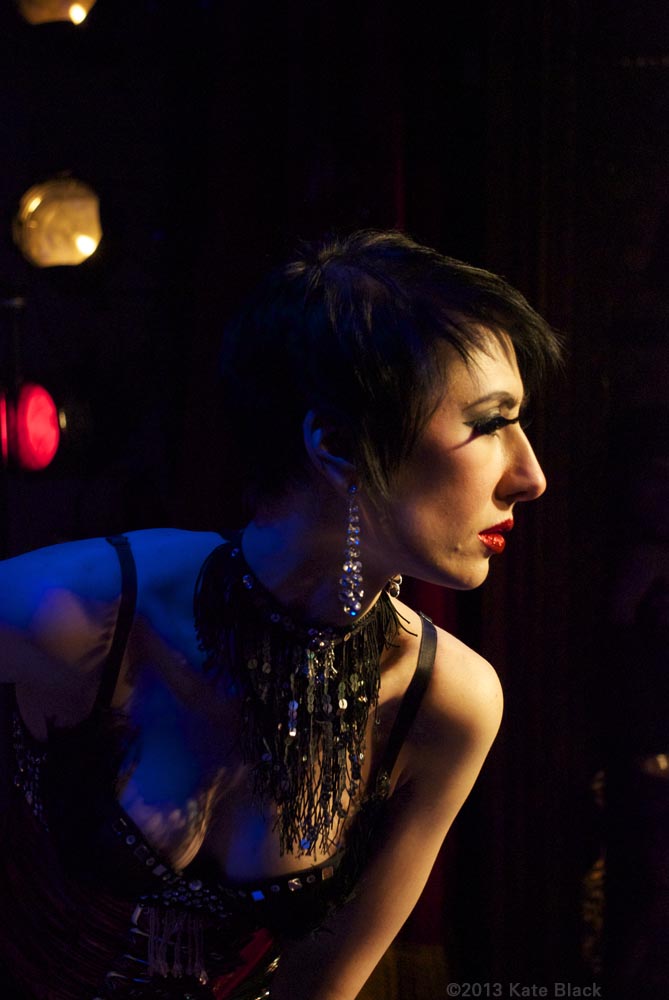 She already knows what is on your mind...
It imbues her stature with an illustrious glow, reformed into tasty nuggets of beauty by the prestige of your art.
Of which she is an honored acomplice.
It is evident by your devotion to comitting her every gesture to a visual record of the moment, as translated through the gaze of your imagination.
(Hey...What is this? Couples session? I like that! ...and crayolas too? DIG IT!)
Inspiration heeds no boundaries in all it's possible renderings...and we are relieved it is so.
And you may congratulate yourselves when you succeed in amusing the Muse!
Who will win the Squishables today?
Well done, Art Monkey!...But wait, is that a Squishable on her head? How could you not win? Strategically played, clever boy!
You have earned the "Muse Seal of Approval!" This photo montage is for you. (insert the 80's soundtrack music of your choice)
And now Ms. Angel has declared it is time for the drinking game...sponsored by Baby Tattoo!
You may proceed...
You are both the winner!
Art Monkeys are mystical beings who are able to see more than first meets the eye...this one reveals Apathy in her merfolk form.
That is all for your eyes today my dears...we do not wish to overwhelm your senses on a Monday. It would be like taking reds and blues at the same time and we prefer milky coffee and 1g of melatonin...working up to the stronger stuff towards the weekend. Stay tuned for more installments from sessions of yore, with your favorite muses, your drawings and YOU!
Thank you Melissa, Syd and Kate and all the cogs in the well oiled Dr Sketchy's New York machine!
Until next time! Au revoire mes amis!
Kat Mon Dieu
RSS
NYC Events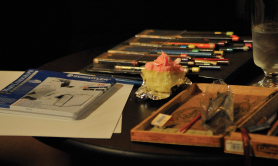 Art Tumblr