Branch Blog - New York, NY
Mon, July 06, 2009 • Aerial Jabberwock Hunting
Hello, Art Monkeys! This is Syd Bernstein, your beloved door-mouse - who is willing to inflict horrible indentations on his face for the purpose of a pun - welcoming you once again to Dr. Sketchy's Anti-Art Blog.
It was truly a frabjous day (whatever the hell that means) at our last session, as our lovely minus-size model Trina Rose explored the enchanted world created by Lewis Carroll in Alice's Adventrues in Wonderland.
In other news, Sarah Palin (shown above with her secessionist husband "Mad Todd" Palin, their attorney Thomas Van Flein, and their spiritual advisor TweedleDope from the Crazy Gang) has resigned from her position as
Queen of Hearts
Governor of Alaska last Friday amid a flurry of controversy and confusion. I wasn't that interested in the story until I heard that her afformentioned attorney
issued a statement
saying, "The Palins will not allow [bloggers] to propagate defamatory material without answering to this in a court of law." As a blogger, I took this as a personal challenge. You may wonder how I would work defamatory material into a Lewis Carroll themed blog entry. I say just watch me as we follow the white rabbit down his rabbit hole into a land where anything is possible, especially if it involves Sarah Palin killing baby seals with her bare hands and devouring them while forcing their parents to watch!
Honestly, would you follow this rabbit anywhere, much less down a hole? Alice should have known better.


At first, Trina is delighted at the new world she has discovered, then she sees some cupcakes that had been disguised as mushrooms.
How could she resist taking a bite?
Then tragedy struck.
And John displayed non-dominant-handed drawings mocking Trina's misfortune! Oh, you wascawy wabbit!
Trina met and befriended a Cheshire cat who had cleverly taken the form of a plush toy produced by the Disney Corporation. That's right - Disney: Ruining children's stories for generations! Also, Sarah Palin is a whore.

And here are some of the other fanciful creatures that Trina met in her adventures.
Some of these creatures were artist creatures who provided drawings of Trina's strange encounters.
Trina also partook of a tea party. Some may call it a "mad" tea party. Why? Because it suggested to use the atom elements for producing super beings - beings of unthinkable strength and size. Now here in this forsaken jungle Hell it has proven that it was right. One is always considered "mad" if one discovers something that others cannot grasp!
Trina was then confronted with a bottle of wine labelled "Drink Me." She had learned her lesson from the cupcake incident though, and abstained from drinking. Others did not have her willpower.
Some people may wonder why in this blog there are so many pictures of John drinking. These people have never met John.
Here John shamelessly plugs his and Molly's book, Scarlett Takes Manhattan, available from Fugu Press
One of the more interesting transformation contests, in the vein of Alice's Adventures in Wonderland was simply "Best Transformation."
SARAH PALIN FUN FACT:
Much like Mel Gibson, Sarah Palin is a self-described Maverick. They also both hate Jews.
Questing through a nightmare world of dislogic can be tiring.
I'm not saying that we have a lot of pictures of Molly, but, on second thought, yes I am. We have a lot of pictures of Molly. But still not enough.
These were the entrants for the random noun contest, which is always a bad idea and we really should stop doing. I think the random noun was "Blossom," making these entries especially confusing.
Still, there are worse excuses for free drinks.
And it turns out that Trina had fallen asleep and dreamt the whole thing. I guess the only thing that remains is to thank Justin Lussier for the photographs and Melissa Dowell for the cupcakes. Do you have anything to add, Ms. Palin?
I couldn't have said it better myself!
-----
RSS
NYC Events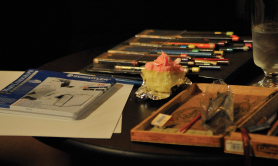 Art Tumblr