Branch Blog - Anaheim, CA
Sat, November 19, 2011 • Aftermath of a Good Nerdgasm
The excitement was high as ApocaLips, Savannah Rose, Phoebe L'amour and Krystal X Kaos came together and inspired every artist lucky enough to attend. We can't thank them enough for their shining personalities, awesome poses, and high skill level in geek speak. Many new artists, who have never been to a Dr. Sketchys session before, attended that day and were quickly welcomed into the family by our veteran members. It was truly a great site to see.
Syc Amore prepping with her man Jack before starting a 3 hour pose for the painters in attendance.
Be honest. Did you notice the Power glove and zapper first?
A rare moment that brought together all the models and Anaheim Chapter organizers. It's because of all of them that the Anaheim chapter exists.
More Photos can be found here and on the Chapter's Facebook page here.
RSS
NYC Events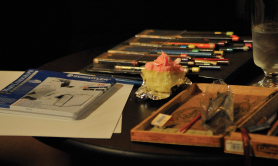 Art Tumblr
Dr Sketchy LA 12-3-13
http://drsketchy.tumblr.com/post/69027079376