Branch Blog - New York, NY
Mon, January 08, 2007 • All that Glitters!
Ahhh, Janurary! That brisk, crisp time of year when apple-faced children put on their parkas and race outside to enjoy the….unseasonable warmth. It's 70 degrees in New York, thanks to either divine intervention or global warming. Whatever it is, we salute you! Girls are back in skirts and guys are finding even more flimsy reasons to take thier shirts off. It's like a holiday miracle!*
Art Monkeys crammed into our over-heated lounge for the New Year spectacular. Kicking off 2007 with new prizes and two people from the Other Side Of the World! Peter, the Princable of Dr. Sketchy's Auckland and Dillon Font! Stand-Up man from
Japan! More of him later. But now, enough men. Onto our glittering star of the New Year, show producer and burlesque funny girl …Little Brooklyn!
Her make-up reminded me of one of my favorite never-used burlesque names. Pixie Bukkake. Little Brooklyn runs the venerable Starshine Burlesque, every thursday at RiFifis. and once came out on stage in a full sugary Bikini to "I want Candy" and procceded to..eat it off. She's willing to give herself insulin shock for us, so the least we can do is hit the tip jar…
I'd buy her bridge. You know I'd never Dodge her! Just no Flatbush jokes, please. She mentioned that my mix CD had alot of "Girl is a Dude" songs. A reference to her infamous "Silence of the Lmabs" number, or something else? Only her hairdresser knows for sure.
The lovely Ms. Crabapple presenting…and ascending to heaven apparently. Lots of people arrived early to get choice seats. Finally, proof someone reads this blog!
Actual art! We're all like, talented and stuff!
Another choice Neighborhoodie's prize! More t-shirts with random, incomprehensable phrases on them! Confuse and bewlider for friends and relations! This contest was "Best reason why Little Brooklyn is so sad."
This didn't win, because she allready has an imcomprehensable Neighbohoodies shirt, but I felt it needed to be seen.
Mirror Mirror on the wall. Who is the most glittery of all?
As part of our New Year's resolution, we are getting rid of left-handed contests. Thats right, no more. Gone. All you abidexterous bastards can go cry in the corner. it's a New Year, time for new
and better things! Like multiple drawing contests! Model in motion contests! Live music! And this horrifying little nugget we call "The Art Gang Bang."
That's my oldest and dearest friend Dillon Font. To think, in Tokyo he's a children's theatre star (No, really.). The amount of people who want to humliate themselves on stage for us is both heartwarming and a little creepy. Shine on you crazy diamonds.
Dr. Simon has kindly agreed to video these contests and ruin all our chances at running for public office. Warning: contains bad words, bare chests, and me having a "chunky" day.
[youtube=http://www.youtube.com/watch?v=TslZomhSmHo]
Me, Molly, and Peter Of Dr. Sketchy's Auckland, now in spooky floating head form!
On a final note, we have a New Year's treat for you teeming millions. Actual factual Dr. Sketchy's message boards! Get ready for poo-flinging and hair-pulling the likes of which you've never seen!
http://www.setbb.com/drsketchy/index.php?mforum=drsketchy
Thanks to Ryan Roman and Dr. Simon for the pictures and video, thanks to the Lucky Cat, Syd, Steve, SaintE, Little Brooklyn, and everyone, simply everyone! This is going to be the best period of 12-months ever
-----
RSS
NYC Events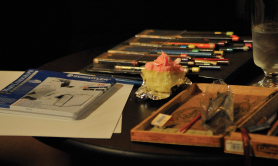 Art Tumblr
https://vimeo.com/81362468