Branch Blog - Amsterdam, The Netherlands
Sat, September 17, 2011 • Amsterdam Launch was a Blast!
Last Friday the new Amsterdam branch of Dr. Sketchy's took off with a Bang! Over 50 people showed up at Club 8, all had comfortable seats and some even had tables. They were regaled by enthusiastic models: Julia the French Maid had a little run-in with Robin Boy Wonder, Lady Baladyna sang a few songs, Spaanse Ans proved that there is really no age limit to modelling: she is 74 years old and still looked stunning in her Spanish ruffles! Star of the night was fetish model Amesbury Rose, who gave us a number of great poses in her fabulous boots. All this was framed by the mighty presence of MC Shai Shahar, who made everyone feel at home.
Our next session is planned for November 5th and we hope to accommodate even more people then! Some of the results of this first session have been posted to our
Facebook-page
- check them out!
RSS
NYC Events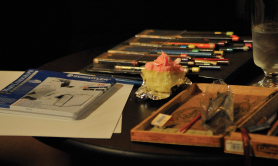 Art Tumblr
Dr Sketchy's LA 12/3/13 (pt. 1)
artofach.blogspot.com
http://drsketchy.tumblr.com/post/69132640329