Branch Blog - Chester, UK
Fri, August 26, 2011 • And now a little word from our Sponsors…
I have to say we're thrilled with the response from our Sponsors - kind, generous and lovely to work with.
I wanted to dedicate this post to them and showcase their work. Lucky Dame is a luxury Couture Latex brand. A one women show, who designs, creates and markets her beautiful latex clothing range that includes; chockers, hair bows, hot pants, bras, dresses and made to measure... Make sure you check out her facebook page too - www.facebook.com/luckydame
Lucky Dame are providing us with an outfit for Miss Pepper at the Casino-A Go Go night 8th September. I can't wait to see the results! Its gonna look HAWT
Yep! We're taking a trip to Vegas... via Chester town centre and letting our imaginations run wild at The Laugh Inn at the next event - would be great to see you there!
Alt Fashion magazine Editor has had 100% attendance at all our classes this year which makes her the sassiest pupil in town! Their magazine and site is bursting with all the news, offers and reviews of everything alternative in the UK and beyond!! Newly launched is their digital editions and they're offering all Sketchy followers, heads and headmistresses a digital copy FREE when you buy any 2 issues. Just need need to enter a code SKETCHYS-ALT in checkout and they'll do the rest!
Our Hotel sponsor - The Beaches Hotel in Prestatyn, minutes away from the Scala Cinema and Arts Centre is perfect for our performers to rest their weary heads after a night of performing and posing! Beautifully decked out and right on the beach for full on panoramic views of the sea - as far as the eye can see! Do also check out their facebook page - The Beaches
Looking forward to working with new sponsors too over the coming months! If you would like to sponsor North Wales Dr. Sketchy nights or the Chester branch get in contact with me [email protected] Don't forget to check out the facebook page for upcoming events!! We've got 8th September all lined up with the Star Bizarre!
RSS
NYC Events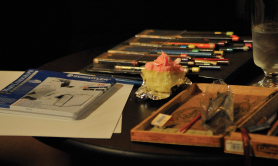 Art Tumblr