Branch Blog - Chester, UK
Thu, November 22, 2012 • And So It Was.
Thursday 25th October we celebrated 3 years of our own little branch of Dr. Sketchy's Anti-Art School! The Pagan ritual themed night saw the welcome return of 2 models and performers we've had the pleasure of drawing before. The slinky hip skills of Serpentina ~ The Snake Girl and our original model who has been with us every 'Anna'-versary ~ Anna Fur Laxis! Kicking off the night with a mesmerizing performance - Serpentina danced to Venus In Furs by Devotchka. Followed by some automatic drawing and then on with a round of quickies!! I really wanted to get the class relaxed and to try to draw from a place of fearless abandon... I will be working on this more and more as we enter our new year.
A packed house full of wonderbeings, pagan sorceresses, goats, friends, new sketchy virgins, Derby folk, illustrators, non-artists, total newbies and a film crew!
What fun was had! During the break most of us treated ourselves to a second round of deliciously devilish cupcakes from Mad Hatters...
And then... this happened.
Lifting the veil between worlds was the stunning Anna Fur Laxis
10 minute pose
Anna pictured above with Leni Hatcher from Y Lle. And final pose with both our models:
PLAYLIST: Devotchka – Venus In Furs (Serpentinas performance music) David Lanz – Cristofori's Dream Jeff Beal – Storm's Coming Kittu – Baby Let's Dance Together Various – Theme From Psycho: Prelude The Murder Cream – Strange Brew Jeff Beal – Carnivàle End Title - Ben's Theme Deadbolt – Voodoobilly Man Two Steps From Hell – Heart of Courage John Williams – The Temple of Doom Tom Waits – Little Drop of Poison Tom Waits – Underground Sarah Llewellyn – Mummers Techno Psyche – Back in the Day Faun – The Butterfly Rachel Goswell – Plucked Evanescence – My Immortal Evanescence – Bring Me To Life Santana – Black Magic Woman Evanescence – Lithium - Album Version - Clean Avoriaz – The Dark Crystal Beats Antique – Beauty Beats Various – Theme From The Munsters Alison Krauss – Down To The River To Pray - Soundtrack Version (O Brother Where Art Thou?) Aphrodite's Child – The Beast Gillian Welch – Scarlet Town Screamin' Jay Hawkins – I Put a Spell on You Omnia – Alive! - Radio Version Spiral Dance – Wayland's Steel Cream – Born Under A Bad Sign Magnet – Corn Rigs Aphrodite's Child – End Of The World John Williams – Approaching the Stones Melody Gardot – If I Tell You I Love You Dale Hawkins – Tornado Esther Phillips – And I Love Him Screamin' Jay Hawkins – Frenzy Manfred Hubler & Siegfried Schwab – Countdown to Nowhere Henry Mancini – Spook! Various Artists – Monster Mash The Soggy Bottom Boys – I Am A Man Of Constant Sorrow Redbone – The Witch Queen Of New Orleans Sarah Vaughan – Bewitched, Bothered and Bewildered Vampire Sound Inc. – Dedicated to Love Chet Baker – Old Devil Moon Gotye – Somebody That I Used To Know Kate Bush – Babooshka Cliff Richard – Devil Woman Post sketching gallery!
Thank you all that attended and made it a Sell Out! Next time.... 6th December ~ Ice Temptress with Atheria Hart & Flixx Demontrant. Tickets are available now! Photography from Karolina Skorek of Creativ Factory and also Guto Bongos of Gwasg Helygain. Sponsors included: Alt Fashion Magazine Extinct Design Vintage Mad Hatters Cakes Filming by Y Lle Your (head)Mistress Madame Ex x 'I release the idea that I am not already living the life of my dreams...'
RSS
NYC Events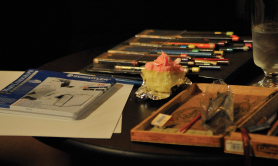 Art Tumblr