Fri, November 12, 2010 • And suddenly things got sketchy…
Flex meets sketch!
We've had interest from even more journo folk as Falmouth & Exeter uni's student newspaper,
Flex
, published an article on the October event.
Sarah Louise Stevenson
swapped her notebook for a sketchbook as she arrived, all very curious, to the evening that featured Cherry Shakewell and Meme Narciss. My musings here are nowhere near as captivating to read as Sarah's article, so take a peek at
Flex issue 12
for an insight into all our inky naughtiness.
RSS
NYC Events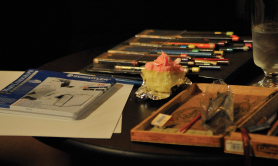 Art Tumblr
Dr Sketchy's LA 12/3/13 (pt. 1)
artofach.blogspot.com
http://drsketchy.tumblr.com/post/69132640329