Branch Blog - New York, NY
Fri, May 02, 2008 • At The Ballet
Get on point and fluff up the tutus, Dr. Sketchy's gets all classy with a trip to the Ballet!
With our Prima Ballerina, Amelia Danger! As a personal promise to our readers, I will refrain from making any Nutcracker jokes.
Molly Crabapple and myself. Everyone said I looked "Flashdance" but I was going for "All That Jazz." Sigh, no one ever understands my complicated costume-based metaphors! *sob*
Amelia is an actual former New York Ballerina Fairy Princess. So she can do stuff like this.
And hold it! I can't even stand under my own power for 20 minutes.
Like Degas, the Art Monkeys drew the pretty ballerinas. Unlike Degas, they did not crawl into a closet and watch them bathe. Yet.
Faithful And Awesome Art Monkey Eve Butler brought in a huge sack of tutu fabric for our amusement.
This is the classiest prop we've had since Inflatable Rape Shark.
Thanks Eve!
Sigh, must these contests always end with a distressing caricature of myself?
Gah, I said no Nutcracker jokes! Damnit!
New Art Monkeys, Mike and Hillary, brought into the fold with the traditional "get toxic shock from ink poisoning" ritual. Ahhh, memories.
And what's THIS? It's a fine SOLID SILVER art monkey head by RockLove jewelers! Because it's not a boozy life-drawing class without hunks of precious metals!
Buy one! Now! Or Else!
Enough salesmanship! On to the drinking contest!
It's the look of mortal terror I savor the most. It pleases me.
And down it goes! And down we go! Thanks to Amelia Danger! Dr. Simon! Eve Butler! Syd Bernstein! Our New Monkeys Hillary and Mike! And Everyone, everywhere! Join us on May 4th at Lucky Cheng's for a special All-Male Dr. Sketchy's! It'll be Queerific!
-JL
-----
RSS
NYC Events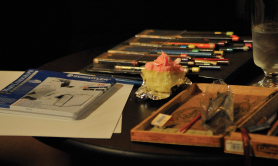 Art Tumblr
Dr Sketchy's LA 12/3/13 (pt. 1)
artofach.blogspot.com
http://drsketchy.tumblr.com/post/69132640329