Branch Blog - Baltimore, MD
Fri, April 06, 2012 • Au revoir, Little Luna
Last session was probably Little Luna's last session ever at Dr. Sketchy's Baltimore. In a few short weeks she'll be on her way to New Orleans to become some sort of vigilante crimefighter-slash-shrimp boat captain. Why is she leaving us? Do we not have enough criminal shrimping operations for her to go all Batman on?
I don't know.
She *will* make one last appearance at the Gilded Lily Presents: Bye Bye Luna show at the Windup Space on March 21st. Make a note. By the way, the Baltimore Sun covered this session too---their piece should be in Monday's edition. When it comes out, I'll add a short blog with a link.
Anyways, Little Luna finished in style. We've got a lot of ground to cover, so let's get started.
Here are the 1- and 2-minute poses.
David Wright
Fred Zeleny
Cecilia Strakna
David Wright
David Wright
Cecilia Strakna
Jennifer A. Stark
Cecilia Strakna
Jennifer A. Stark
Hannah LeVasseur
After the 1- and 2-minte poses, we took a quick break, and then it was time for the 5-minute poses, the first of which was the non-dominate hand contest. If you're right-handed you draw with your left, if you're left-handed you draw with your right, and if you're ambidextrous we feed one hand to the shark.
The two winners received mystery concoctions from Russell. What were they? Capri-Suns? Gasoline infused vodka shots? I have no idea. We maintain plausible deniability for a reason.
Fred Zeleny
Cecilia Strakna
David Wright
Varvara LaVoom
Cecilia Strakna
Kerry Brady
After that, it was time for a recess so folks could sneak a smoke, refill a Harvey Wallbanger, push someone off the jungle gym---whatever. Then it was time for the 10-minute poses . . . . . . and FISH CHAOS.
I managed to turn off my fancy video camera when I thought I was turning it on at EXACTLY the worst moment---which triggered a truly epic cursing fit several hours later. Luckily, Alexis and I don't take SHIT from technology; she was filming backup with her phone. It's not the greatest video, but it gives you an idea.
I'll leave the rest to the video, which you should be able to see at the top of the blog.
Why was there a shark attack? Really folks, there are no thought processes going on. It's all white noise up top. I can tell you, you better run for your lives if I ever get a hold of a giant robotic Tyrannosaurus Rex. They're expensive (I've checked), so you're probably safe...
...unless someone reading this has one I could borrow/have. Call me. [thumb up, pinky extended, hand to ear]
What were talking about? Dinosaurs? (The 10-minute poses. --Alexis) Oh. Right.
The second 10-minute pose was our second contest of the evening, ye' old random noun contest. The crowd picked "oil spill" this time around. The winner received a pair of back seamed stockings from What Katie Did.
Fred Zeleny
Cecilia Strakna
Another break for folks to top off drinks and fend off fish and it was time for the 20-minute poses. The first was a another contest, the goal being the best homage to Edward Gorey, since it was his birthday the week before. The winner received The Strange Case of Edward Gorey by Alexander Theroux from Atomic Books, which is in Hampden on the corner of Falls Rd and the Avenue. It's easily the best bookstore in Baltimore.
Hannah LeVasseur
Jennifer A. Stark
Fred Zeleny
David Wright
Kerry Brady
The last pose of the evening was also the last contest, the goal being the best incorporation of polar bears since it was International Polar Bear Day. The winner received Oompa!, Sabrina Chap's CD. If you missed her session in January, check out her stuff, and if you're feeling patrony, support the making of her next CD.
Jennifer A. Stark
Fred Zeleny
Hannah LeVasseur
A quick aside about the fish . . . a lot of folks did some pretty amazing things so that all worked out.
First, lots of thanks to Brian and Missy for letting us buy a helium tank off of them, they ROCK. Second, it turns out the tank was only enough to fill one and a half fish. Two hours before the session I ended up having to make an emergency run to Flowers By Chris, who I'm sure thought I was crazy over the phone. They finished filling up the shark for me, though, no charge. The night wouldn't have happened without them. Next time you're in Mt. Vernon and need flowers, maybe shoot them some business.
Third, I don't know if you remembered, but that Monday was a FUCKING WINDSTORM. If I'd tried to walk those two fish to the Windup from Mt. Vernon, I would have been screwed. Luckily, Missy was a superhero AGAIN and gave me a ride to Windup.
Unfortunately, at that point we couldn't get into Windup because Russell was held up in traffic, so then we owe thanks to Victor who runs the check-cashing shop next door, who gave us shelter till Russell arrived.
So, next time you need, umm, a check cashed or payday loan, go to Victor.
Oh Baltimore, I love you.
Then, THEN, the light-rail delayed Luna, luckily, Valeria Voxx, a past model, happened to be on hand and volunteered to go get her.
THANK GOD. Otherwise yall would have spent the night drawing fish.
ANYWAY, super thanks to Little Luna who did an amazing job (while having a cold!)---we'll miss you---if you get murdered in New Orleans, we'll make fun of you since you're from Baltimore and better fucking represent; thanks to our sponsors Atomic Books, Flying Dog Brewery, What Katie Did, and Baby Tattoo Books for the great beer specials and amazing prizes; thanks to Russell for slinging drinks and booze; thanks to Jeff for the nifty photos above; thanks to Alexis for holding the ship on course, sharks-be-damned; and thank you to all of you for making Little Luna's last night at Sketchy's such a great night.
RSS
NYC Events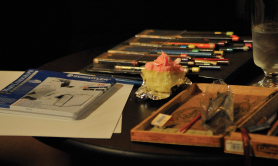 Art Tumblr
Art by me at dr. Sketchys seaside at the alternative cafe. I am Jacob Rafael Estrada
http://drsketchy.tumblr.com/post/69484943198