Mon, August 09, 2010 • August 9th in Atlanta
In honor of the Celebration V event, our lovely Model Ana will be premiering two new costumes just for us. She might also be bringing a special guest, so don't miss out tonight! here's a little peek from the fine photographers at Dim Horizon studio:
Remember it's 10$ to draw, photographers email me to reserve a spot, and the bar is cash only! See you at 8pm!
RSS
NYC Events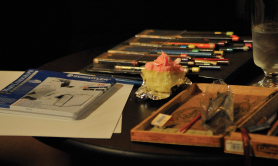 Art Tumblr
https://vimeo.com/81362468