Branch Blog - Minneapolis, MN
Mon, August 30, 2010 • August Session Featuring Lula Houp-Garou!
Hello!
Wow another great session and turn out! Lots of people new to Dr. Sketchy's and some truly amazing work. Lula Houp-Garou was a complete darling and gave us some fantastic lines. We were blown away by her light up Jelly Fish hula-hooping act. This was clear artist by seeing the work created. The under the sea theme was a popular contest.
Here's a few sketches from the session:
By Jesse Lindhorst
By Sarah Hedlund
RSS
NYC Events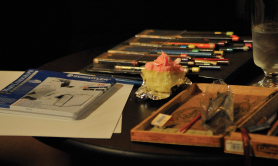 Art Tumblr
https://vimeo.com/81362468