Branch Blog - New York, NY
Tue, June 14, 2011 • Aussie Aussie Aussie! Oi Oi Oi!
Good day, Art Monkeys!
At our last session of Dr. Sketchy's Anti-Art School, we had as our models Agent Cleave and Jess Daly, who came to us all the way from Melbourne - a mysterious place on the other side of the globe whose name I have been told I'm mispronouncing. They were accompanied by simply the cutest accents. Unfortunately, due to the limitations of photography, their accents cannot be represented in this blog entry. Fortunately, photographer Kate Black was able to capture what the models looked like, which was pretty great in itself.
The koala masks are part of a sacred Australian ritual. Every year at harvest time, the Australians put on masks and wait in the koala patch for the Great Koala to come and bestow gifts on all of the children of Melbourne. I... don't know a damn thing about Australia.
Cleave and Daly enjoy their eucalyptus Lady and the Tramp style.
In the Australian Bible, Jesus was crucified wearing a crown of eucalyptus and was climbed by many hungry koalas.
Some bckstage photographs of Cleave and Daly dressing. How embarrassing!
This is the delighted winner of our Left Handed Drawing Contest. She is holding her pad so that we can't see the prize winning drawing, so you have to use your imagination.
I have been informed that koalas do not hibernate, thus ruining my caption for these pictures. It would have been hilarious, too.
A sampling of some of the art and artists from the session.
The models both have violet eyes, which are extremely recessive.
The theme for our second contest was marsupials, which I would guess is Rob Liefeld's favourite infraclass of mammals (because of the pouches).
The prize for the contest was a tyrannosaurus from Squishable. The tyrannosaurus was not a marsupial - it is most closely related to modern birds. The evolutionary biologist in me would like to think that the fuzz on the squishable tyrannosaurus is actually a thin coating of feathers.
Some Dr. Sketchy's family photos.
I don't recall what was happening when this picture was taken, but I think Cleave was bored by it and Daly was shocked by it.
If I am not mistaken, the rings in these pictures represent the seductive but corrupting nature of power. These rings will have to be destroyed in Mt. Doom, somewhere in New Zealand.
The theme for the last contest was to represent the wild, lawless, Mad Maxian nature of Australia, which the artists represented through...
... the models ripping my throat out.
That's as good a place as any to end this entry. Thank you to Melissa, Molly, Kate, Dennis, Yao, Foley, Paul, and Kim.
- Syd Bernstein
RSS
NYC Events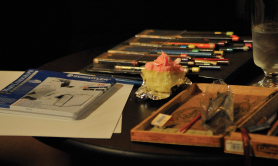 Art Tumblr