Branch Blog - New York, NY
Thu, March 26, 2009 • Beat My Guest
It's our culturally relevant class war session as Anarchy beats the living shit out of Capitalism in a sexy, sexy political metaphor! Bella Vendetta (of Bellavendetta.com) screws over Businessman Syd Bernstein in the spirit of populist uprising! Or something. We really just wanted to beat up Syd. In a way, that's all we do. More photos from Dr. Simon after the jump!
Is it safe Syd? Is it safe?!
We finally ran out of Etch-A-Sketches to give away! Farewell well-meaning but misguided marketing ploy. May a flight of parallel lines sing thee to thy rest.
Our Ravenous Hordes! Well Simmering Hordes. Polite Hordes. Oh nevermind
Contests! Contests with carrots for some reason. Listen, I was drinking and I can't be expected to remember everything that happens before I blackout. I'm only one man.
Forced drinking! The very soul of Dr. Sketchy's Anti-Art School.
But wait! there is more domination and humiliation! Yay! Photos by Justin Lussier, who is made of concentrated win.
Haven't we all wanted to attack a man in a sharp suit, pound him to the ground and make them do our bidding? No? Just me? Fine
..buncha squares.
And that's it. Let us consider this a success for the working man everywhere! Thanks to Syd and Bella, To Dr. Simon and Justin Lussier, Melissa and Tim, and Monkeys all over. We wouldn't be here without you! Well, we would, but it would be really lame.
Come back this Saturday for Raquel Reed and Cupcakes and glitter, glitter, glitter!
-----
RSS
NYC Events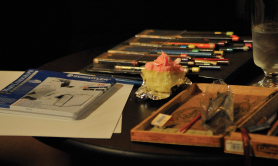 Art Tumblr